National elections recount
…refutes COVID-19 claims
Prime Ministerial Candidate of the People's Progressive Party/Civic (PPP/C), Mark Phillips, has denied reports that he was tested positive for the coronavirus disease (COVID-19).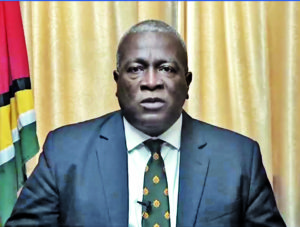 The PPP/C's Prime Ministerial Candidate gave the candid disclosure on Tuesday when he met with reporters encamped in the makeshift media centre outside of the Arthur Chung Conference Centre (ACCC).
Phillips indicated that it was his first visit to the venue for the recount of the votes cast during the March 2, General and Regional Elections.
Addressing the reports that he contracted COVID-19, Phillips told reporters "I was not ill to any extent where I had to do a COVID-19 test."
He stated further that to date "I have no reason to do a COVID-19 test" and pointed to the onsite COVID-19 screening that is done at the ACCC venue.
Timeline remains questionable
Providing an update on the recount exercise, Phillips lauded the progress made to date but lamented that with 25 per cent of the total ballot boxes counted so far, completing the exercise within the 25-day timeline remains questionable.
"As it looks now, it appears that we will go beyond 25 days."
According to the PPP/C's PM Candidate, "frankly speaking the position of the PPP is that we should be counting boxes at a faster rate"
He noted that the party was heartened to see the establishment of two additional stations.
"It is our hope that this recount process will arise as a solution to this over two months delay in the final declaration of the General and Regional Elections 2020."
He did, however, note that his party is hoping that in addition to the two counting stations, additional counting stations will be added.
The additions, he noted, would, of course, be in keeping with the COVID-19 guidelines "ensuring that the exercise is conducted in a safe manner adhering to all the new regulations."
According to Phillips, "we have to respect the protocols but we are hoping that we can increase the number of counting stations so we can have more boxes counted per day."
Phillips surmised that the rate at which the counting is being done at the ACCC venue could be done at a faster rate which would facilitate completing the exercise within the envisioned timeframe.
According to Phillips, "by my calculation, we should be counting somewhere about 93 or more boxes per day."
This, in order to meet the deadline. He told media operatives "based on what I saw today I think it is feasible, possible, but it is not for me to determine where the stations are to be placed, this is a big facility."
The PPP/C's PM Candidate used the occasion to downplay what was perceived as a public absence in light of his portfolio.
According to Phillips, "there are many things happening within the PPP/C and some of us are high profile with our work and some of us are not so high profile with our work."
He drew reference too to the COVID-19 guidelines currently enforced across the country such as remaining indoors and at home, adding, "I have been working behind the scenes."