– calls on GECOM to urgently make decision on way forward
The People's Progressive Party (PPP) is now considering a date in late October for the hosting of early General and Regions Elections – a timeline that was worked out by the PPP-nominated Commissioners at the Guyana Elections Commission (GECOM).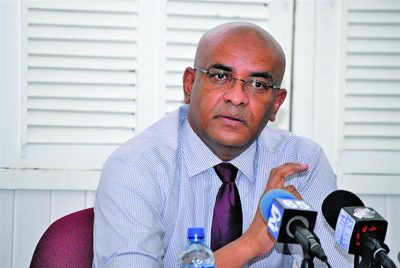 This was revealed by Opposition Leader Bharrat Jagdeo at his weekly press conference on Thursday. He told reporters that this is a more realistic date for holding of early polls.
"We've stuck with September 18 'cause that's the constitutional date, but we know the Government is unconstitutional and it would be impossible now – given that the decision has not been made to hold elections by September 18. So, I've seen a timeline worked out by our Commissioners which has— with all of the processes being followed so that you don't come cut corners— elections towards the latter part of October," he stated.
However, the Opposition Leader noted that the PPP Commissioners did not get to submit this proposal to GECOM at its last meeting on Wednesday.
"I don't think they really had an opportunity [to make the submission]. I don't want to talk about what took place at the meeting because I think all of the parties are in discussion," he noted.
Nevertheless, Jagdeo posited that if GECOM is to immediately abandon the ongoing House-to-House Registration and move to a Claims and Objections alternative, then an October elections would be possible.
"If they move now, we can have elections early… I've seen the timeline. You can achieve [it]. If you do that now, like say they start on Monday with a Claims and Objection, or even Wednesday if they need time to prepare, you can achieve end October…," he contended.
On this note, the Opposition Leader called on GECOM to urgently come up with a decision, noting that Guyanese are anxiously awaiting a way forward.
"GECOM must act with alacrity, recognising that people are out there waiting. The enumerators are in limbo… Guyanese people are in limbo in the face of the Commission saying they're waiting on the Chief Justice's ruling… Why don't they stop it now? They should stop it immediately, and that is the only course forward and to start Claims and Objections – it's a time-tested method," he stressed.
Following a meeting on Wednesday, the Retired Justice Claudette Singh-led Elections Commission failed for a second time to come up with a decision on how to proceed regarding elections and the ongoing House-to-House (H2H) Registration. The Commissioners were tight-lipped about the meeting, but it was noted that GECOM would be able to advise President David Granger "very soon" on their preparedness for early polls.
The Elections Commission will be meeting again today to continue their discussions.
However, Jagdeo is insisting that GECOM should go ahead and scrap the ongoing Registration and move to a Claims and Objections period. This, he pointed out, would be consistent with the recent ruling of Chief Justice Roxane George on the constitutionality of ongoing H2H Registration.
Last week, Justice George ruled that while the conduct of H2H registration is not unconstitutional, it would be unconstitutional for the exercise to remove qualified persons from the voters' list for reasons other than death or those disqualified under Article 159 (2) (3) or (4).
According to the Chief Justice, GECOM cannot operate in a normal elections cycle and any verification process used must take into consideration the December 2018 passage of the No-Confidence Motion (NCM).
"The NCM is an extraordinary circumstance that GECOM must bear in mind in its decision making as it conducts the House-to-House Registration and for that matter, any verification process that has as the objective, the compilation, or revision of the list of electors for the required upcoming elections," Justice George noted in her written ruling that was recently released.
Perusing the CJ's decision at Thursday's press conference, the Opposition Leader posited that despite three sections of the ruling stating clearly that it would be unconstitutional to remove qualified persons from the list, GECOM is still continuing with H2H, which, in the first place, intended to de-register everyone and create a new National Register of Registrants Database (NRRD).
"You'd recall that the reason for House-to-House Registration was to de-register all Guyanese who had been registered before and create a new list. That meant that if you registered before and if you didn't re-register then you're not gonna be on the database for the future and you couldn't vote. But the Chief Justice said you cannot [be removed from the voters' list], GECOM doesn't have the authority [to do that]," he asserted.
To this end, Jagdeo underscored the importance of abiding by the CJ's ruling and prepare for the hosting of early elections, especially since the country has been on hold since December last year.
"The Government is an important interlocutor in people's lives and, therefore, many people are uncertain as to how to engage this Government because we've made it clear that much of what they're doing, in fact most of what they're doing, is illegal because the Government is unconstitutional… In another part of the world, this would be described as a dictatorship… we've been a bit more generous in saying its unconstitutional rule. But what you've had here is a coup d'état by abdication of responsibility," the Opposition Leader stated.
President Granger has maintained that he needs to be advised by GECOM on its preparedness before announcing a date for General and Regional Elections. However, some Government officials have been floating around a date in December, but Jagdeo is insisting that polls can be held long before yearend if the H2H exercise is scrapped and a Claims and Objections period is used instead.