…Govt says nothing to worry about
The Opposition People's Progressive Party has expressed worry over the withdrawal of another bank from Guyana's economy, mere weeks after Scotiabank's sell out to Republic Bank. This time, they argue that Bank of Baroda's exit indicates a lack of confidence in the economy.
This is according to former Attorney General Anil Nandlall, who zeroed in on the surprise news that the India-owned Bank of Baroda would be withdrawing its operations from Guyana, to focus on its other international locations.
During his contribution to the Budget Debates On Friday, Nandlall noted that commercial banks, in any economy, are a well-known barometer by which one can judge an economy's performance and therefore urged the country not to turn a blind eye when banks are suddenly packing up shop and leaving.
He pointed to how well placed the commercial banks are in the economy and the amount of money they deal with, to reinforce that banks are better placed than most organisations to judge an economy's financial health.
"Today, Bank of Baroda selling its operations in Guyana. That is what is happening, that is the reality on the ground. Three weeks ago, we were met by the announcement that Scotiabank was selling its operations in Guyana. And that is the reality. We can speak here in the finest of languages, using the best adjectives to describe the economy, but the reality out there is quite different," Nandlall stressed.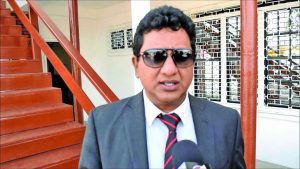 Unfazed
The news did little, however, to faze Finance Minister Winston Jordan. In fact, he claimed that the news of their impending pull out from the local market was known to the Government. According to Jordan, in his rebuttal of the Opposition at the end of the debate, the Government has in fact been trying to persuade the bank to reconsider.
"We tried to persuade them that doing business in Guyana (is good). What is important is what is happening generally. It didn't start yesterday. Apparently, these banks consider doing business in these states not profitable anymore. Not that it isn't making profit, but it's not profitable (enough) because of the risks."
"They have to contend with this regulation and that regulation. They have FATCA (Foreign Account Tax Compliance Act) to deal with. They have AML (Anti Money Laundering) to deal with. They don't consider our territories to be profitable anymore."
Jordan noted that the bank is not just pulling out of Guyana, but in several other territories. According to the Minister, this will present opportunities for local and overseas-based Guyanese businesses to "step up to the plate" and get into banking.
"Let us be very, very blunt. With five billion counting barrels of oil, who's pulling out? Who's unwilling to take a risk with five billion? American Airlines is here. United Airlines are back. And they will line up once the barrels are up. No one will run from Guyana because they see a bleak future," the Minister stressed.
According to the Financial Express, the banking institution is looking to divest its entire 100 per cent stake in its Bank of Baroda Guyana Inc subsidiary through investment bankers. It was noted that the sale is part of a strategy to exit relatively less remunerative international markets by the Bank of Baroda, which continues to call itself 'India's international bank'.
The bank is now seeking bids from investment bankers to help find a buyer. It has asked for technical and financial proposals by the end of this year. Meanwhile, the Bank of Baroda branch here has not made any statement on the matter.
This move by the Indian bank comes just over a week after the Canadian-based Scotiabank announced that it has signed an agreement to sell its banking operations in Guyana and eight other Caribbean nations to Republic Financial Holdings Ltd, a deal worth some US$123 million.