Global Spare Parts & Auto Sales Golf Tournament…
Former Club Captain, the veteran Patrick Prashad, pulled all the stops to edge out LGC President Aleem Hussain in their 'Championship (0-9) Flight', finishing tied in an exciting day in Global Spare Parts & Auto Sales tournament.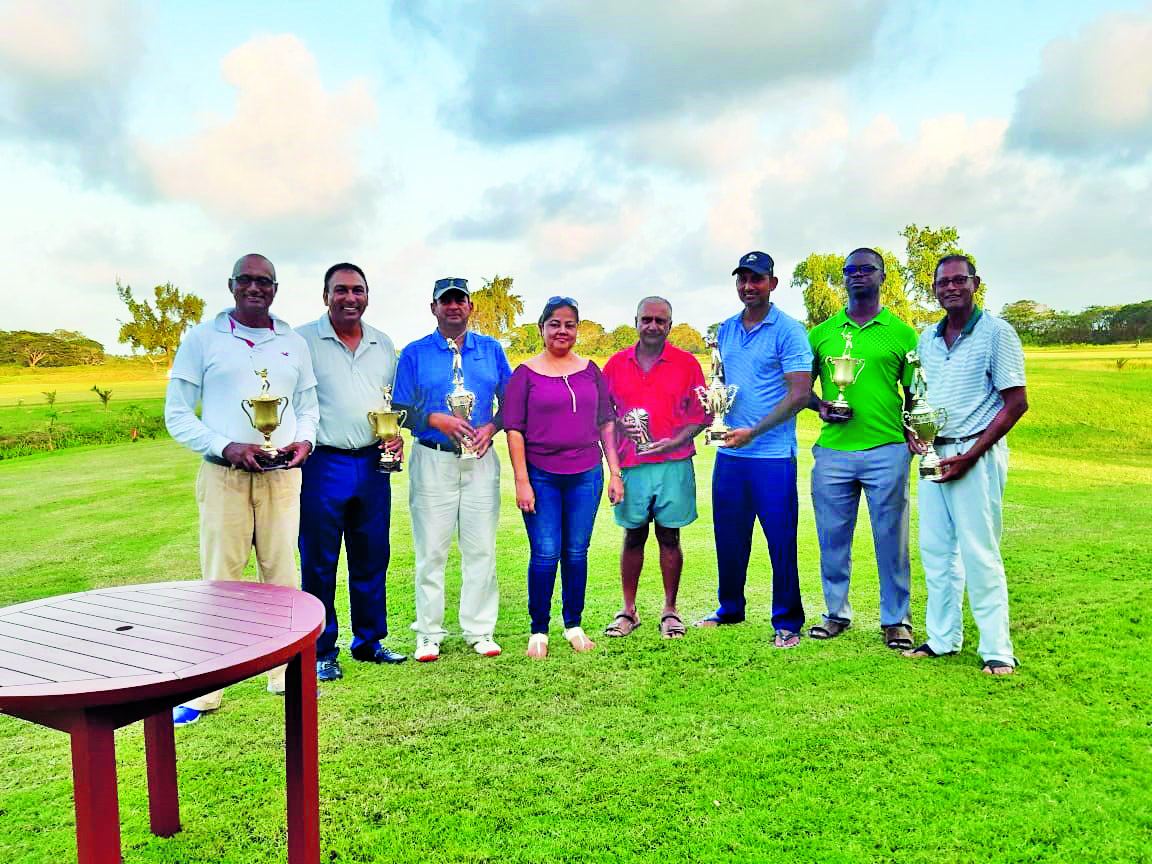 The first tournament of the year saw the other two Flights being won by the experienced Maxim Mangra, who easily took the lead in the 'C' (19-28) Flight; and Ayube Subhan, who produced a superb performance to lead the extremely keen competition in the 'B' (10-18) Flight.
In the 'A' Flight, Prashad (72/8) was 1st, with Hussain (72/9) 2nd. Former Guyana Open Champion Mike Mangal was third, on their heels with a fine 74/8.
Mangra's 68/20 was without contention, as he led 2nd place Gavin Todd (77/19) by some 9 strokes. Rookie Harry Ganpat (the sponsor), who has been showing great improvement in his play, produced a commendable 82/28 while Best Gross for the day (77) was produced by veteran golfer Ramesh Amrud.
The day's tournament was graced with the lovely presence and participation of Doreen De Caires, who has been a member of the club for some 50 years, and was the Women's Captain for many years. Her husband was the longest serving Men's Captain of the Club. De Caires delivered a great net 100 off of her play.
Reigning Guyana Open Ladies Champion Christine Sukhram also added her charm and participation to the occasion. Another positive experience for the Club was to have its newest member, Chet Bowling of New Amsterdam.
The competition in the 'B' Flight was a taste of how stiff the COPA Airlines competition is likely to be come Saturday, January 25.
The keen jostling, obvious by a spread of only 4 strokes between the top seven scores in the Flight, indicates that golfers will be going all out to emerge as champions in their Flights.
Subhan's 68/14, followed by Shanella London's 69/15, was the tip of the iceberg. Patanjalee 'Pur' Persaud (70/14); Lekhnarine Shivraj (70/16); Christine Sukhram (71/12); Mike Gayadin (72/12) and Mahindranauth Tewari (72/12) sent clear signals that no one would win without a good fight.
This excitement and anticipation for the COPA tournament is well appreciated by COPA General Manager Nadine Oudkerk, who has expressed willingness to support the LGC along with the programme.
CEO of Global, Ganpat, a keen golfer, was on hand with his charming wife to congratulate the winners and express his appreciation for being involved with the LGC.
Hussain expressed gratitude to the Ganpat family for their willing support of the LGC and the ongoing vision.
He thanked the golfers for their good participation, and the Grounds staff for their commendable work.