-National Plan for Athletics to be implemented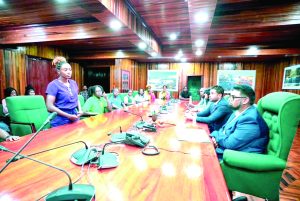 His Excellency President Dr Irfaan Ali has met with a number of national athletes at the Office of the President on Shiv Chanderpaul Drive in Georgetown.
During that meeting, the Head of State reassured the group that his administration is working on a National Plan for Athletics, that includes employing qualified officials such as coaches, doctors and nutrition specialists; while building infrastructure across the country and implementing other initiatives that would help athletes realise their full potential.
"I believe we have enough talent in the country that we can make a big impact on the regional and international stage," the President has said.
He reminded the athletes of the various infrastructural projects for sports development currently underway, including the development of a synthetic track in Linden, which is expected to be completed soon.
During the meeting, the President also opened the floor for discussions and suggestions.
Minister of Culture, Youth and Sport, the Honourable Charles Ramson Jr; Director of Presidential Affairs, Mrs Marcia Nadir-Sharma; and the Director of Sport, Mr Steve Ninvalle, were also at the meeting.