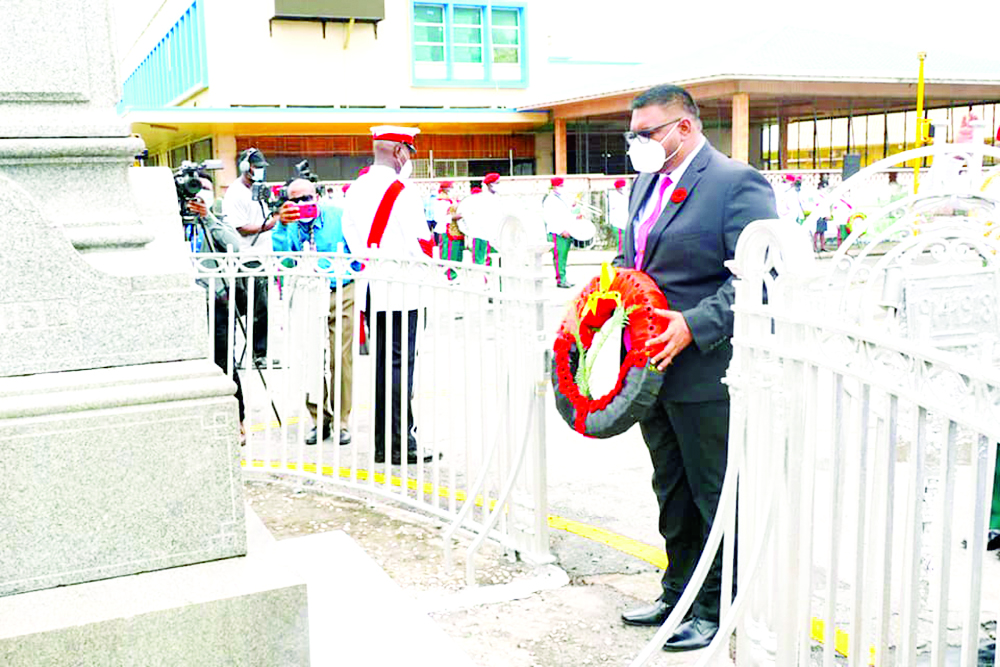 President Irfaan Ali on Sunday lauded the sacrifice made by the men and women who laid their lives down in service to the Commonwealth during World Wars One and Two in order to ensure that peace and freedom around the world.
The Head of State was at the time speaking at a wreath-laying ceremony, which was held at the Georgetown Cenotaph (War Memorial) on Sunday. He was joined by Prime Minister, Brigadier (ret'd) Mark Phillips, other government officials, members of the diplomatic corps and members of the Guyana Veterans Legion (GVL) among others.
During his brief address, President Ali posited that Guyana will forever be indebted to those veterans for their supreme sacrifice in the cause of peace and freedom during World Wars I and II.
"We also recall with gratitude those who, through the years, have made similar personal sacrifices in the continuing struggle for human dignity, social justice and freedom from all forms of oppression, wherever these exist. Their examples strengthen our resolve to maintain our efforts for a world at peace with justice and prosperity for all people," he asserted.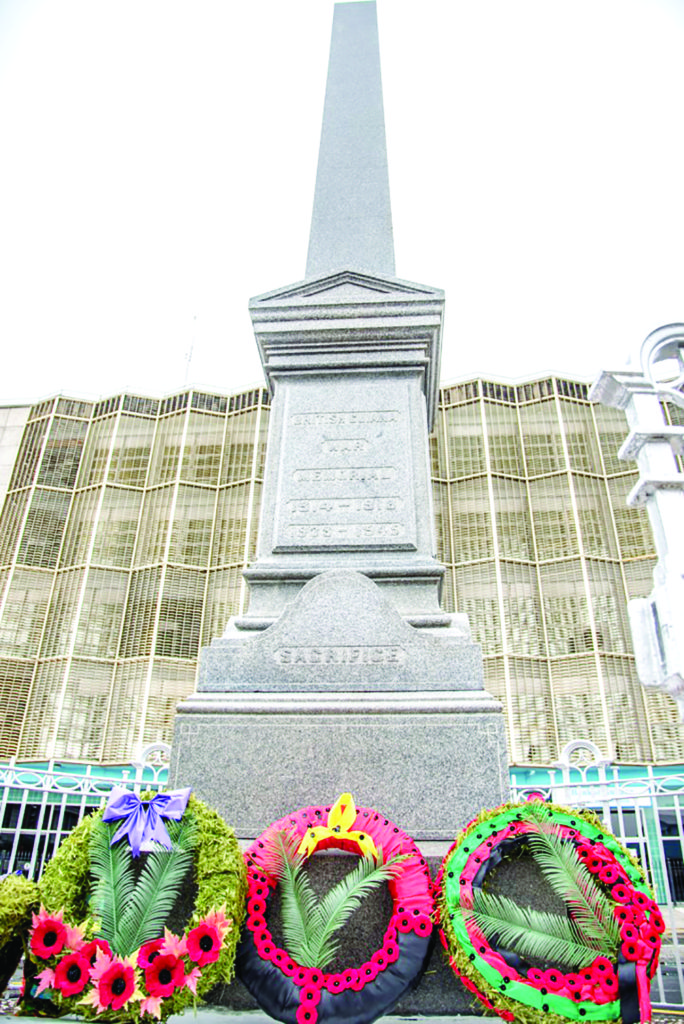 The Guyanese Leader went onto pledge the rededication of Guyana and its people to the search of peace everywhere. He also renewed the commitment to the development and wellbeing of this "beloved country."
Remembrance Sunday is commemorated on the second Sunday of November. Remembrance Day, or Poppy Day, is observed on November 11 annually by Commonwealth countries to honour those who died in the Wars. British Guianese soldiers served and fought in Egypt, France, Belgium, and East Africa.
The Remembrance Day or 'Poppy Day' is observed each year on the second Sunday in November to pay tribute to the fallen soldiers from the two World Wars (1914-1918 and 1939-1945).
However, this occasion is commemorated on November 11 annually by Commonwealth countries around the world to honour those who died in the wars
Guyana's oldest World War II veteran is Benjamin Durant, who will celebrate his 102nd birthday in the coming week. There are currently nine surviving veterans in Guyana.
President Ali led the charge in laying the wreath at the War Memorial on Sunday, followed by Prime Minister Phillips and members of the Diplomatic Corps, including British High Commissioner Greg Quinn, Canadian High Commissioner Lilian Chatterjee, U.S Ambassador Sarah-Ann Lynch and Indian High Commissioner, Dr K.J Srinivasa.
Chief of Staff of the Guyana Defence Force Brigadier Godfrey Bess, Commissioner of Police (ag) Nigel Hoppie and a representative of the Guyana Veterans Legion also laid wreaths.
Sunday's event was scaled down and had to be observed with adherence to the COVID-19 guidelines.
President of the Guyana Veterans Legion (GVL), Lieutenant Colonel (retired), George Gomes, told the Guyana Times that the pandemic has severely impacted this year's Remembrance Day observance.
However, he noted that this is such a significant activity that they could not have ignored it.
"We were unable to take Poppies out to the schools. We were not able to carry out our annual Poppy Drive, which is on the Saturday before Remembrance Day. But Remembrance Day cannot be ignored and this year, 2020, marks 75 years since World War II ended, and there is no way we could have gone without observing that," he noted.
Nevertheless, the GVL President is optimistic that next year's Remembrance Day activity will be held with its usually grandeur.