His Excellency Dr Irfaan Ali on Tuesday received two commemorative coins to mark Guyana's 55th Independence Anniversary from Bank of Guyana Governor, Dr Gobind Ganga.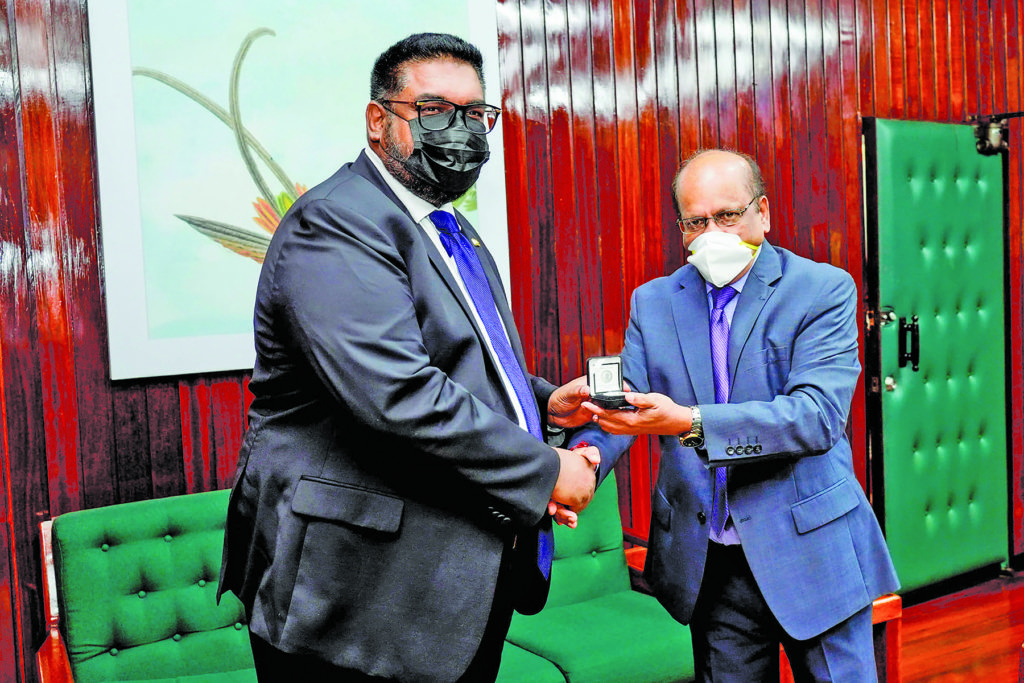 Dr Ganga, who presented the coins to President Ali, explained that the Bank, due to circumstances beyond its control, was unable to issue the coins in May but is still ensuring that Guyana's Independence is celebrated numismatically.
The $10,000 Proof Coin is on sale at $18,000, and the $100 circulation coin is available at face value.
The two coins showcase Guyana's fauna with the national bird—Canje Pheasant—etched on the $10,000 coin and another national animal—the Jaguar—engraved on the $100 coin.
Dr Gobind explained that the Proof Coin is struck in 99.99 per cent pure silver and weighs one troy ounce. The front carries the Coat of Arms, and the back carries the national bird. This coin has an issue limit of 1500.
The $100 circulation coin has the Coat of Arms on the front and the Jaguar on the back.
Due to advanced technology, Dr Gobind said, the Jaguar is painted in five colours – white, red, black, green and yellow—and is only the second painted coin that has ever been issued by the Bank.
The coins were minted by Osborne Coinage of the USA and the Royal Canadian Mint and feature the theme of the 55th Independence Anniversary – One Guyana.