…there is shared national interest to help productive sector back on feet – Finance Minister
With the countrywide floods affecting economic activities, particularly in agricultural and mining communities, President Dr Irfaan Ali will be meeting with bankers and other creditors this weekend to explore ways to alleviate the burden on indebted persons who are currently battling floods.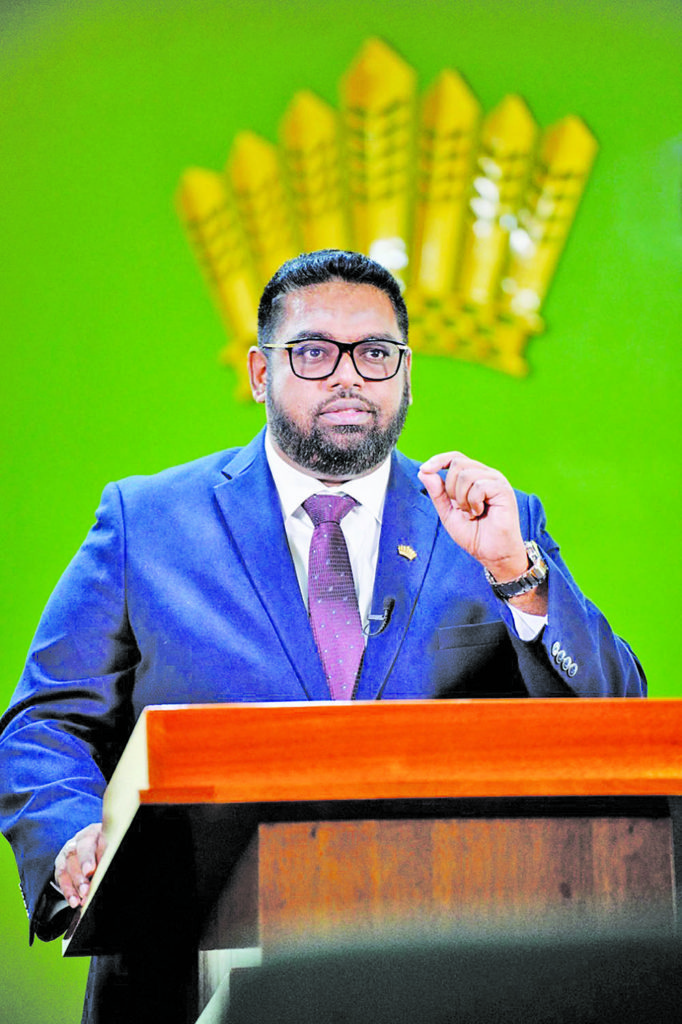 The Head of State gave this reassurance to residents of Regions Five and Six, which are mainly agriculture-based, during visits there earlier this week.
"We're scheduling meetings this weekend with the banking system, and what I will also do is ask Minister Zulfikar [Mustapha] to meet with the big millers and creditors and we work out how we can help; how the Government and these people can work together; but that will come after the assessment. We have to understand what is the total picture, the macro picture. We cannot speak in isolation," the President said, according to a DPI report.
Cash crop and livestock farmers on the Corentyne Coast have expressed concerns about their crops and the protection and preservation of their cattle amidst the inundation.
Consequently, the President indicated that elevated lands have been made available within Region Six for cattle. These lands can cater to at least 10,000 animals.
Additionally, transportation is being provided by the Guyana Livestock Development Authority (GLDA) to move the cattle to higher grounds. Notably, over 40,000 pounds of formulated feed have also been manufactured for cows.
Meanwhile, several mining communities are also experiencing floods in various hinterland regions. While dredge owners are forced to cease operations, some of them have complained that they are being harassed by the banks for loan payments.
But according to Finance Minister Dr Ashni Singh, there is a shared national interest to help the productive sector back on its feet after having been devastated by these floods, which are likely to continue into next month.
He noted that these floods have caused devastation not only to households, but have also tremendously destroyed productive activities.
"You have seen what has happened with farmlands. You've seen what has happened with livestock. You've seen what has happened with hinterland roads, which will have implications for access to the interior in terms of mining activities and so on. So, productive activity, particularly agriculture, has been very, very severely hit by these floods.
"A lot of these people have loans in the banks, etcetera, and it is in nobody's interest to see these people find themselves in a situation where they are in default in loans, or deemed to be bankrupt, or taken to court. We have a shared interest – Government, the financial sector, the people who are involved in productive activities who are affected [by the floods] – I believe we have a shared national interest in helping everybody back up on their feet," Dr Singh said in response to a question from Guyana Times.
He explained that Government has recognised the financial distress the people in debt are in, hence the move to reach out to the financial sector to ascertain what can be done to bring some level of relief to these persons.
"[We want] to at least engage with the financial sector, to have a discussion on what can be done to minimise the distress that these farmers and miners and others who are involved in productivity activities are facing," Dr Singh noted.
While the Ali-led Administration has already engaged the banking sector to implement various relief measures to combat the impact of the ongoing COVID-19 pandemic, the Finance Minister was unable to say what relief Government will be seeking from the commercial banks on behalf of those in debt.
Meanwhile, President Ali has contended that while Government is taking steps to bring long-term relief, his Government's immediate priority remains the safety and protection of citizens.
"Presently, our aim is to ensure that people have access to food, water, sanitation and healthcare. That is our immediate task, and that is what we have been doing," he was quoted as saying in the DPI article.
Nevertheless, the Head of State has reassured flood-affected residents that once the water recedes, Government officials would conduct a complete assessment of the losses. That assessment would determine the interventions the Government would undertake to support those who have lost their livelihoods.