– at 175th anniversary
President David Granger has pledged Government's support for ongoing educational programmes being implemented by the Diocese of Guyana, and has noted that religious organisations can play an integral role in the development of communities, and by extension the country.
The President made these remarks at a special church service held to celebrate the 175th anniversary of the establishment of the Diocese of Guyana, on Sunday at the Christ Church Parish on Waterloo Street.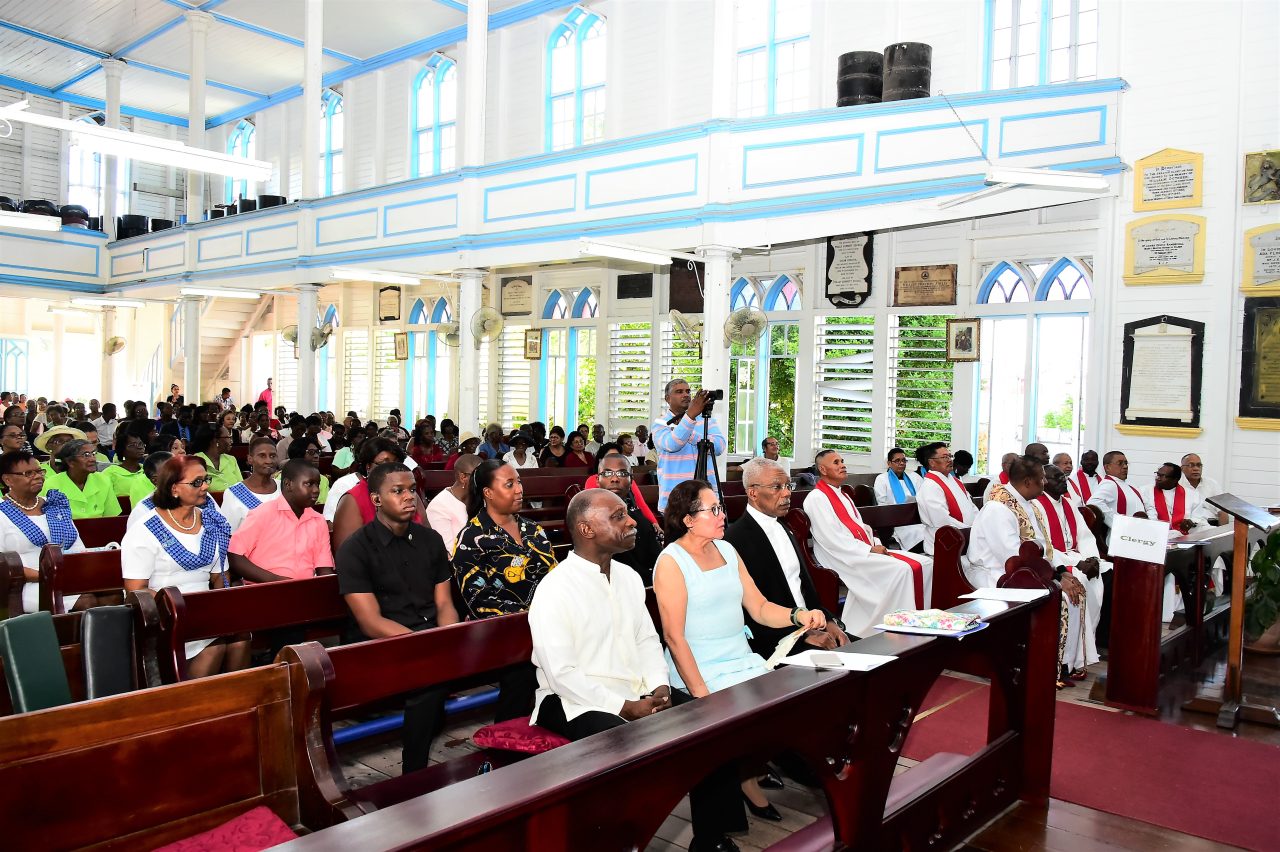 He has said the Diocese has been making strides in terms of education delivery since its establishment, and this coincides with his goal of improving access to education for all the children of Guyana.
"The Diocese, through the foresight of our first Bishop, established Queen's College as early as 1844, and later the correctly-named Bishops' High School, both of which still reflect the high standards set by their Anglican founders…
"The Diocese can be assured of my Government's support for the Church's educational efforts, as I have supported Hindu and Islamic schools through the National Endowment for Science and Technology (NEST)," the President said.
President Granger also said the Diocese has always played a role in the promotion of peace, in assisting the poor and impoverished, and in bringing together people of different backgrounds.
"The Diocese came into existence on August 24, 1842 with the consecration of Right Reverend William Austin as the first Bishop of Guiana… The Diocese deserves our gratitude for its service to women, youth, the poor and needy. We applaud the episcopacy, clergy and laity for the propagation of the Gospel in Guyana… The State looks forward to working with the Diocese towards making Guyana a better place, and to providing a good life for all in the years ahead," the President has said.
The Head of State noted that the Diocese occupies a prominent place, and plays a pivotal role in public and private life. He noted that Anglicans constitute almost seven per cent of Guyana's population. Anglicanism, he said, has transcended race, class and creed, and has deep roots in almost all communities, with churches in every hinterland and coastal region. "Growing up in Essequibo, Berbice and Demerara, I never had to travel more than 30 minutes from my home to reach an Anglican Church, so ubiquitous were they then. The Diocese of Guyana is home to some of Guyana's most historic churches, the most spectacular of which — the Cathedral of St George — adorns our $100 currency note," President Granger said.