Local company National Aerodrome Inc is currently eyeing biomass fuel production in Linden, Region 10 (Upper Demerara-Berbice), as part of its proposal which is set to be submitted to Government for the Linden Re-forestation and Green Energy Project.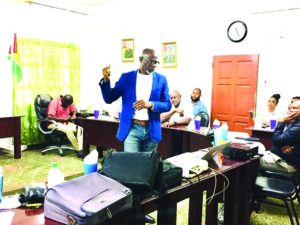 The company is also proposing for the Linden Airstrip Rehabilitation Project, of which it has since received full support for from the Regional Democratic Council (RDC). The company's secretary, Gary Best, who is an advisor to President David Granger, facilitated consultations on the projects with the RDC, Linden Mayor and Town Council (LM&TC), and the Linden Chamber last Thursday. Best delivered the proposal for the project to the RDC.
"In Linden, you have about 2000 hectares of mined-out lands, you also have seepage into the Demerara River. So what you have developing slowly is an environmental disaster. Now we all know that mining companies meant to do re-forestation, (but) that has not been done in decades…So I think we have an opportunity in Linden," he claimed.
Best further said that the project will entail re-forestation and re-vegetation in which the aim would be to re-forest the mined-out lands in the community, sustainably harvest them, and use the forest as biomass for a biomass plant which would produce clean energy.
"We have partnership with a company in France that has done the re-forestation in French Guiana and that project is going well…using the natural forest…" he added.
The Linden community has vast mined-out areas owing to over one hundred years of bauxite production.
Best also said that another company, which his company has partnered with, also did a high-fibre cane project with the Guyana Sugar Corporation (GuySuCo). He said provided that the project comes on stream, clean energy can be used as an alternative for diesel, which is currently being used to supply electricity to the community. He noted that if the community can switch to utilising green energy, it can save lots of carbon. The plan, according to Best, is to also sub-lease lots to Lindeners who wish to pursue the re- planting project.