The quarterfinal round of the Region 4 (Demerara-Mahaica) leg of the One Guyana President's Cup Inter-Ward Football tournament was fiercely contested on Thursday and Friday night, and four teams have booked their spots in Sunday's semifinal round.
At the Ministry of Education Ground (MoE) on Carifesta Avenue on Thursday night, Buxton/Beterverwagting (BV) were forced out of a comfortable lead, and were made to fight hard for their win, while Diamond Grove held on to a slim lead in order to taste victory.
Game 1 saw the eventually victorious Buxton/BV coming up against their East Coast counterparts Mahaica/ Mahaicony. Buxton/BV appeared to be the better-oiled unit of the two, and were soon rewarded in the 7th minute, when their first goal came off the boots of Eon Dooker.
Mahaica/Mahaicony were having a difficult time getting past their opponents' defenses, and much later, Buxton/BV went 2 up by way of a penalty opportunity, taken by Shemar Fraser. It was not until the final minutes of the game that fireworks began exploding when Mahaica/ Mahaicony spurred an emphatic comeback.
First, it was a scoring opportunity by way of penalty. Making the conversion for Mahaica's first goal was N. Portsmouth. A few minutes later, Keven Shawood spotted a lack in the Buxton defence, and capitalized by connecting his team's second and the much- needed equalizing goal.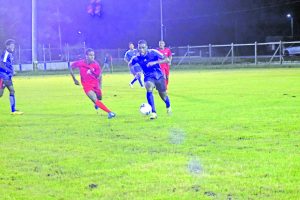 When extra time bore no fruit, the game went down to the penalty spot, where a flawless Buxton eventually won 5-3 on kicks from the penalty mark.
The following game was a nail biter in which Grove/ Diamond's composure proved enough to top a stacked West Ruimveldt/Albouystown team.
Grove/Diamond's opportunity to get ahead came in the 12th minute of the contest, and Lloyd Matthews made no mistake in finishing well. With the slim lead in their hands, Grove/Diamond amplified their defenses, starving their opponents of opportunities until the final whistle was heard.
The following night, another blockbuster double-header was on the cards for the same venue. In the first fixture, Plaisance/Liliendaal schooled Timehri/St Cuthbert's/Swan, while Tucville/South Ruimveldt earned a hard-fought win against Lodge/Wortmanville.
In Game 1, Stephon Matthews opened the scoring for Plaisance/Liliendaal in the 4th minute, after putting their opponents in a stressful situation early on. Pressure mounted in the opening stage of the second half when Seon Vaguhas struck Plaisance's second goal. With Timehri/St. Cuthbert's/Swan's chances going awry, it was smooth sailing for Plaisance/ Liliendaal. T. Garraway added to their tally in the 54th minute, while Seon completed his brace in the 57th to seal his team's 4-0 victory.
The last of the quarterfinal games saw a clash between Guyana's powerhouse players, with the Lodge/Wortmanville outfit being put on the defensive almost immediately, as an own goal was gifted to their opponents.
To make matters worse, Daniel Ross connected Tucville/ South Ruimveldt's second goal in the 28th minute, upping the ante in the already tense encounter. The first half was void of any more goals, but near-misses were plenty on both sides.
Lodge/Wortmanville's redemption finally came in the 68th minute when Joshua Braitwaite bested Tucville's Akel Clarke in the nets for his team's first actual goal. Tucville's defense went to work in ensuring there wasn't a recurrence, and eventually sealed a 2-1 win.
The semifinals of the Region 4 leg of the One Guyana President's Cup Inter-Ward tournament will be played today at the Guyana Football Federation's (GFF's) National Training Center (NTC) at Providence.
The first semifinal will see Buxton/BV locking horns with Grove/Diamond, while Plaisance/Liliendaal and Tucville/South Ruimveldt would oppose each other in the second semifinal. Game times are 12.30hrs and 15:00hrs respectively.
The Georgetown final is tentatively set for Tuesday, December 6th, 2022.