…company to pump USM more in expansion
Bringing innovation to a burgeoning fishing industry, a local businessman has pumped some US$15 million into the establishment of a tuna plant, and has signalled intention to invest another $50 million its expansion.
Pritipaul Singh Investment (PSI) has taken the lead in a very competitive market with the opening of the state-of-art tuna plant, the first of its kind in Guyana, and the most advanced in Latin America.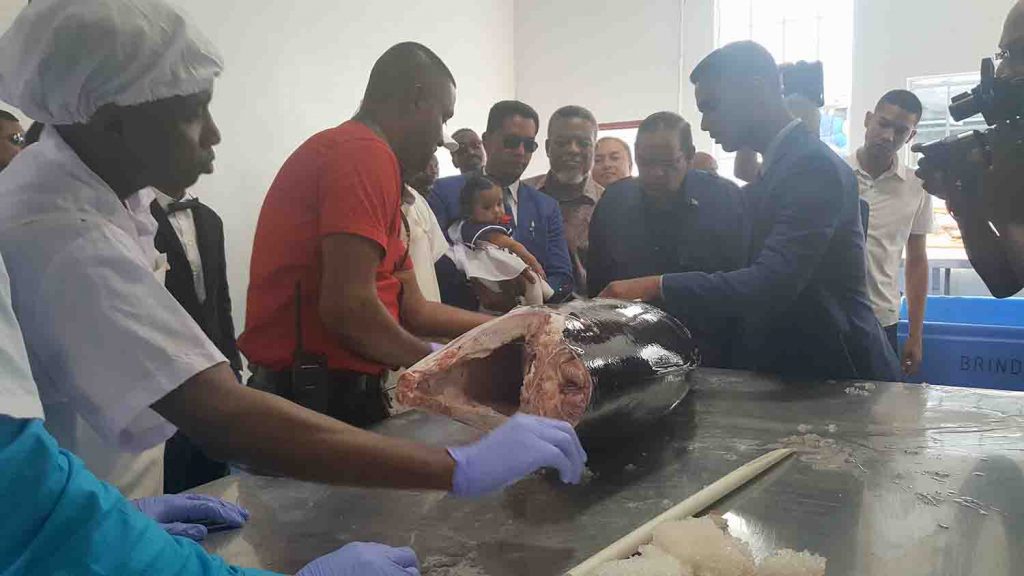 The plant at the company's Providence location specialises in the packaging of whole tuna fish for export to the United States, where the product is in high demand.
Over the next five years, the company hopes to develop this operation by entering a value-added production with a factory to can processed tuna for both local and foreign distribution.
A 2014 report stated that there is a growing global demand for tuna in many countries.
According to the Western and Central Pacific Fisheries Commission (WCPFC), an estimated 305 purse seiners were fishing in the western and central Pacific Ocean in 2014, which is 10 vessels more than the 295 that operated in the region in 2013 and 10 per cent more than the 287 purse seiners operating in 2012.
Goals
During a ceremonious opening by the seaside in Providence, PSI Chief Executive Officer (CEO) Pritipaul Singh said the idea to venture into tuna production was a reaction to a highly competitive and hostile business environment.
"It is most satisfying in the furtherance of my business goals and objectives and it is with pride and national conviction that I have chosen to do so in the month of October, designated Agriculture Month," he declared.
Singh also underscored the importance of government's commitment to private sector establishments as he called for requisite support from relevant agencies.
In fact, he urged the discontinuation of slothful and laid-back approaches in processing requests from private entities since delays cost time, money and opportunity.
He reminded that Government depends significantly on private sector investment and as such should also play their role in ensuring the local environment is conducive for doing business.
On this note, the businessman disclosed that he provides employment to about 1500 persons, with over 5000 benefiting indirectly. He noted too that PSI contributes significantly to the taxes collected by government and in this regard, he encourages government to provide the necessary concessions to ensure the business can continue to function at a rapid pace.
Humble beginnings
The businessman also shared his inspiring success story, of his childhood in poverty through his wise business investments which led to his ownership of one of the largest seafood establishments in the Caribbean.
"I came from a single-parent home where basic amenities were not always available…In spite of gross poverty, mother placed great emphasis on education," he stated, reflecting on his afternoons after school assisting his mother at her small stall in the Bourda Market.
After graduating from Richard Ishmael High School, Singh became a teacher while furthering his studies but quickly realised he could not wait for the monthly dollars.
"I followed a trader to Barbados, selling seafood in suitcase from Guyana and buying apples and grapes, and bringing it back to sell in Guyana. About four years later, I thought of seafood. I became to purchase prawns, freeze it and then export to Barbados," he explained.
Just from savings, a young Singh purchased a small sawmill, then a fuel station and later one trawler.
Seeing potential in the fishing industry he then purchased 14 more trawlers.
From there, his business took off and through prudent decisions, it began to blossom.
The businessman expressed heartfelt gratitude to the previous administration for their assistance in the development of his business, more particularly the late Janet Jagan, who had exhibited confidence in a young man with a huge vision to take the country forward.
The event was attended by Prime Minister Moses Nagamootoo and former Prime Minister Samuel Hinds who each congratulated the business on yet another successful venture. (Devina Samaroo)