By Safraz Hamid
The World Health Organization (WHO) recommends exclusive breastfeeding of newborns up to 6 months of age. The health benefits of exclusive breastfeeding are extensive: for the newborn, breastfeeding lowers the risk of respiratory and gastrointestinal infections, allergic diseases, and long-term morbidities such as diabetes mellitus and obesity; for the mother, breastfeeding reduces the risk of breast and ovarian cancer, promotes bonding with the newborn, and provides a natural form of contraception.
Despite these health benefits, only 33% of newborns in Guyana are exclusively breastfed in the first 6 months of life. The reasons for this low rate of exclusive breastfeeding have not entirely been elucidated. While ethnographic and public health research is needed to understand the barriers to breastfeeding in Guyana, the reasons are likely multifactorial, involving a variety of issues such as workplace maternity leave, stigmatization of public breastfeeding, and cultural misconceptions of breastfeeding.
Here, I will discuss the role of health care professionals in overcoming the low rate of exclusive breastfeeding in Guyana. In doing so, I will draw upon my experience counselling mothers in the newborn nursery of a "baby-friendly" Brooklyn, NY hospital that serves a predominantly Caribbean population.
One significant step that Guyana's health care professionals can take to increase the rate of exclusive breastfeeding is supporting the Ministry of Public Health's efforts to create more "baby-friendly" hospitals. The Baby-Friendly Hospital Initiative (BFHI) is a program started by UNICEF and the WHO in 1991 to ensure that all hospitals become centres committed to actively encouraging and supporting breastfeeding.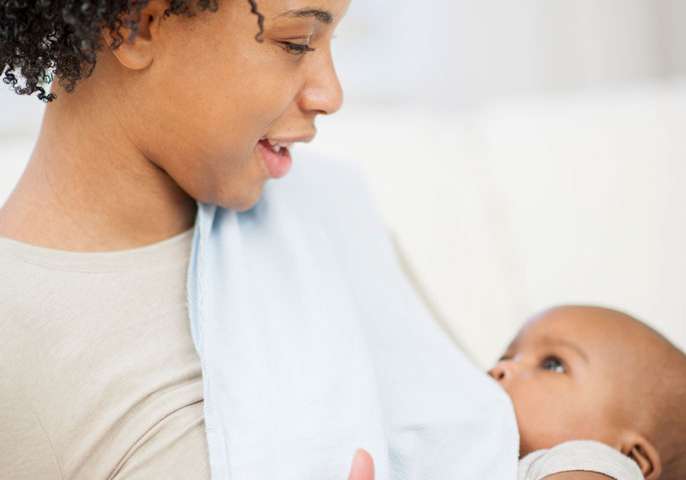 In 2002, more than a decade after UNICEF and the WHO implemented the BFHI, there were zero hospitals in Guyana that had earned the "baby-friendly" hospital designation. Now, as of 2016, there are a total of eleven "baby-friendly" hospitals in the country: West Demerara Regional Hospital, Davis Memorial Hospital, Mahaicony Cottage Hospital, Mahdia District Hospital, Lethem Regional Hospital, the Upper Demerara Hospital, Georgetown Public Hospital, Suddie Hospital, Oscar Joseph Hospital, New Amsterdam Hospital, and Skeldon Hospital.
To attain designation as "baby-friendly," a hospital must fulfil ten steps outlined by UNICEF and the WHO. Some of these steps include having written breastfeeding policy that is communicated to hospital staff, informing mothers about the benefits of breastfeeding, and actively teaching mothers about breastfeeding techniques. The BFHI also requires hospitals to initiate skin-to-skin contact following birth for at least an hour and to promote "rooming-in" where the newborn stays in the mother's room allowing for breastfeeding on-demand.
In the day-to-day operation of "baby-friendly" institutions, these steps are carried out by health care professions such as physicians, nurses, and lactational specialists who have direct contact with mothers and serve as counsellors and mentors to these mothers during the peri- and post-partum periods. Thus, through promoting the values of the BFHI, health care professionals in Guyana's eleven "baby-friendly" hospitals are frontline in the efforts to improve breastfeeding rates.
The efforts to attain "baby-friendly" status in Guyana's hospitals are tremendous and commendable; however, there are still two regions in the country (Regions 1 and 7) where there are no "baby-friendly" institutions. These predominantly rural regions are potentially the most susceptible to misconceptions about breastfeeding and could benefit greatly from "baby-friendly" initiatives. The efforts to improve the breastfeeding rates in Guyana must, therefore, be more comprehensive and reach the entire country and health care professionals in all regions should be trained in promoting the values of the BFHI.
In addition to promoting the specific recommendations of UNICEF's and the WHO's BFHI, Guyana's health care professionals can work to improve the country's breastfeeding rates by providing helpful anticipatory guidance to mothers.
In my experience in a newborn nursery, a common complaint from mothers is that their newborns are not getting enough milk through breastfeeds. The initial milk expressed by mothers is called colostrum and is naturally produced in very small quantity. Because newborns have small digestive systems, colostrum delivers rich nutrients in a very concentrated low-volume form. So, although the initial colostrum may appear inadequate to mothers, this milk form is sufficient intake for the newborn and mothers should not automatically give up breastfeeding for formula feeds. Another common complaint I've experienced regarding breastfeeding is that mothers are often discouraged by how painful breastfeeding can be.
There are a variety of breastfeeding techniques and various positions to hold the newborn when breastfeeding and, when these are correctly taught to mothers, breastfeeding becomes a completely painless process, even for mothers who recently delivered via Caesarean section. This is the type of anticipatory guidance that physicians, nurses, and lactational specialists should actively provide to mothers. It not only supports their use of breastfeeding over formula feeding but it provides reassurance that breastfeeding exclusively for 6 months is a feasible process for the mother. In addition, anticipatory guidance should focus on training mothers on recognizing lactational cues, breastfeeding frequently, and expressing and storing breast milk when mothers will be separated from their newborns.
Guyana's low exclusive breastfeeding rate is likely the result of a variety of complex cultural, socioeconomic, and even legal factors. At the hospital-level, however, health care professionals can work to encourage exclusive breastfeeding by promoting the values of the "Baby-Friendly" Hospital Initiative and by providing key anticipatory guidance to new mothers.