Bauxite workers impasse
The Guyana Bauxite and General Workers Union (GBGWU), which is the trade union representing bauxite workers who were dismissed by Bauxite Company of Guyana Incorporated (BCGI) has no plans of instructing any of its members to desist from blocking a section of the Berbice River leading to the company's operation located at Aroaima, Region 10.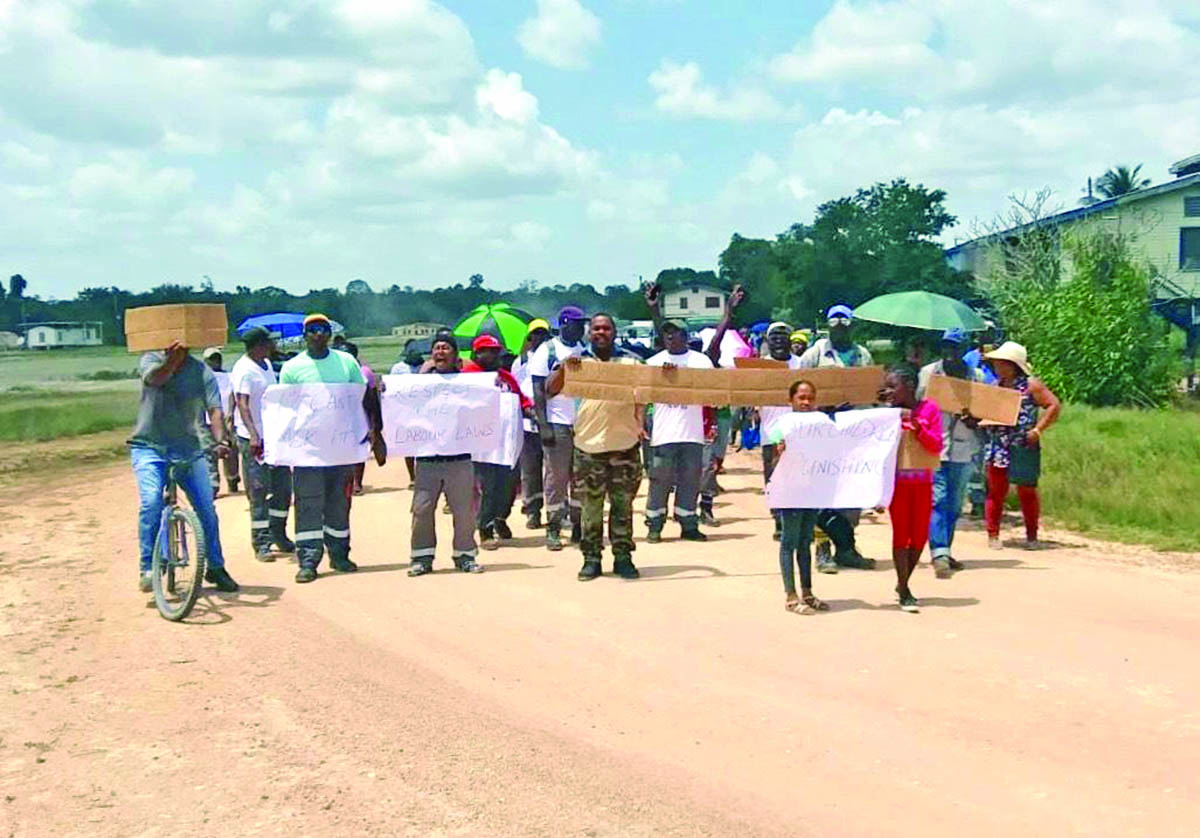 The river was blocked off by disgruntled residents and workers after over 60 employees were fired by the company some three weeks ago. This led to residents and disgruntled workers retaliating against the Russian-owned company, RUSAL, by blocking off the access road as well as a section of the Berbice River leading to the company's operations.
Although RUSAL has said that it will reinstate the dismissed workers if the blockages are removed, the President of GBGWU, Lincoln Lewis, in an interview with <<<Guyana Times>>> said that he is not going to intervene.
"No, we are not going to do that. We are not going to do that. We didn't put them up, don't ask me to move them."
The trade unionist is of the view that persons have a right to have their voices heard and if those who are participating in the blockages feel that their actions are just and in keeping with the law, then he sees no need for the union to interfere in the matter. The river has been blocked with wire rope, preventing bauxite-laden barges from passing.
This publication understands that as a result of the blockages, the Russian company has lost millions already.
More protest
Meanwhile, on Tuesday, in solidarity with the employees recently dismissed following their protest over the one per cent increase by RUSAL, over 100 residents took to the streets of Mapletown, Aroaima in Region 10 (Upper Demerara-Berbice) in another protest.
Residents from neighbouring riverine communities including Ituni, Hururu and Kwakwani, marched through the streets holding placards bearing slogans including, "RUSAL must go", "1 per cent can't mek it", "pay up or pack up" and "daddy not working, I can't go to school".
The residents also chanted loudly, "Who must go? RUSAL!", "One per cent, can't work!"  and "No Union, no work!" as they made requests for a larger increase for the bauxite workers.
"We are here to encourage one another. I am so glad when I see people from Kwakwani coming over…it gives us more strength," a protester noted.
The protesters made their way over to the company's quarters and the river crossing where residents continue to block that section of the Berbice River leading into the Aroaima-based company.
The disgruntled residents noted that there will be "no letting up" as it relates to unblocking the river until their demands are met.
The RUSAL impasse is now in its third week with the bauxite company coming under heavy criticism over its decision to fire 61 workers because they started a strike action against a one per cent increase in salaries, which they said was agreed to by Government.
Opposition
Last week, Opposition Leader Bharrat Jagdeo said that under the People's Progressive Party/Civic (PPP/C) Administration, a similar matter had arisen, and the then Administration managed to save the jobs that were at risk.
Jagdeo added, "we took back the company that was private to the treasury, brought it back, renationalised it and kept it going until we found a replacement…we worked hard to protect those workers there so our track record is important".
According to him, not only are private and foreign companies taking advantage of workers but Government Ministers are doing the same while making specific reference to the 7000 sacked sugar workers who had to go to the Judiciary to get their legally entitled severance payments.
The Opposition Leader added that the then PPP Administration exhausted every effort to ensure that workers' rights are protected, especially with the passing of several laws which mandated severance payments among others.
Jagdeo pointed out that he has been lending Government advice which seems to be of no use.
Sixty-one workers were fired by the Russian-owned company after they protested a one per cent salary increase, which they said was agreed to by Government. Following a meeting with Government, RUSAL refused to reinstate the workers and subsequently dismissed 30 more persons from the department in order to temporarily close it as a result of the strike actions.