…no concrete plans for crime fight
In the wake of the horrific accident on East Bank Demerara (EBD) that claimed the lives of five persons, Public Security Minister Khemraj Ramjattan has admitted that indeed, there are Police Officers who abuse the sirens on their vehicles and present a danger to other road users.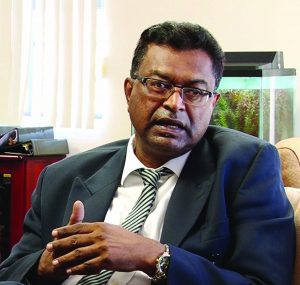 Ramjattan made this admission during an interview on State radio. When asked what he was doing about these ranks, he noted that there are rogue personnel that they are making efforts to weed out.
"To avoid these accidents that cause so much loss of limb, life and damage to property and the trauma of it, requires passengers speaking to drivers, telling them you're doing something wrong, please stop it or put me out of the vehicle".
"That Policeman that was driving very fast on Friendship (Public Road) a couple days ago, that caused the loss of five lives, obviously he was very reckless. You've been begging the Police leadership to also talk to these fellas and still. They use their sirens; they abuse their sirens".
Ramjattan was asked what is being done to curb this abuse. As an example, he noted that there are problems with implementing surcharges on Police Officers in cases when they damage the Force's vehicles. He noted that for humanitarian reasons, h06 money from officers for wrecking Government property.
"Information (from public) is acted upon, but still we have, I don't know if you'd want to call them, rogue elements who still go out and do it. I remember, the first time after getting the first set of Chinese vehicles, about 59 vehicles, the next day one crashed because of the reckless driving".
"I had indicated when we did the launch that any driver found recklessly driving and causing accidents, they will have to pay a penalty coming out of their salary for the repairs to the vehicle. And the next day after (we were going to fine him), his wife and four children came in and said if we deduct from the salary, these children will starve. What do you as a Minister do? Take the money and starve the children?"
Five persons lost their lives last week, when a taxi and a speeding Police car, driven by Presidential Guard Ronnel Barker, collided head-on. From all indications, the Police car had its siren blaring and was travelling at a fast rate of speed.
As such, the civilian motorcar was seen coming to a halt when the two vehicles collided head-on. In the wake of the accident, which left Barker and four other persons dead, President David Granger had ordered a Commission of Inquiry (CoI).
No concrete crime fighting plan
When it comes to crime fighting, the Minister shied away from taking responsibility but rather claimed that the public has to secure itself and be more alert. From the Police end, he noted that they have to beef up patrols.
"It requires lots more patrols by our Policemen. It requires members of the public being alert. They have to be far more alert. And take a look at the back and find out who's following them. If they go out, try to go out in groups. That's what the Police will generally tell you. And that's what is needed to secure yourself".
Ramjattan made mention of the recent Police operation, where touts and members of bicycle gangs were arrested in the vicinity of Stabroek market. He noted that many of them were arrested either through tips from members of the public or by facial recognition from the Closed Circuit TV (CCTV) cameras set up around the city.
"We are going to, in a way, beef up the Police patrols all over the place. We have utilised our video cameras at the command centre at Liliendaal to check on a number of these bicycle and motorcycle guys, for a period of days and then we went in and, having identified them, ensured that we arrested them, and arrests have been made, about 39".
"So we're getting the information through the video cameras. And persons have been calling in to say who and who, at the Stabroek market, have been doing their mischief and we have been arresting them," Ramjattan said.