With the alarming number of complaints by consumers on a daily basis, the Public Utilities Commission (PUC) on Friday revealed that it is lacking the technical support staff to properly investigate these complaints.
This is according to Chairperson of PUC, Dela Britton, who was addressing the media.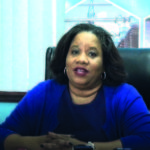 "We admit that we are lacking in that sort of technical support, but what we have done as it relates to Linden and our application for complaints officers for Linden and Essequibo, we have increased the requirements to a first degree".
More so, she outlined that the Commission is hoping to fill these positions as it expands its operations.
"The PUC of the further is hoping that we can deploy persons across this country's 8 thousand square miles so that we can have officers, really and truly investigatory officers".
To this end, they are looking to embark on an internship programme for students from technical and vocational schools in order to increase its capacity.
"We really and truly are hoping to get that moving by the end of next month in terms of finishing the negotiations for the school and then we can start to really recruit interns for the different areas and the sectors".
Despite receiving fewer complaints from Essequibo, the PUC will be opening its fourth office on Monday at Henrietta Road, Essequibo Coast.
The PUC has offices in New Amsterdam, Berbice and Linden.