ꟷ as Guyana's Permanent Resident to UN decides to step down
With reports arising that Guyana's Permanent Representative to the United Nations (UN), Michael Ten-Pow, has indicated a desire to not have his contract extended, questions are also being raised over what Guyana's chairing of the 2020 G-77 summit actually achieved thus far.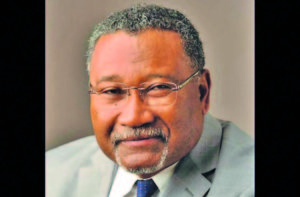 It is understood that Ten-Pow communicated his intention to step down from his post effective July 31, 2020, in a letter he wrote to all Permanent Representatives from the G-77 Member States and China, to the United Nations.
Earlier this year, reports first started swirling that Ten-Pow had submitted his resignation to the Government. However, the Foreign Affairs Ministry had then issued a statement in which they had denied claims that Ten-Pow had resigned.
According to Ten-Pow's letter, he will be proceeding on annual leave from July 7 until the month-end, with current G-77 Coordinator in Guyana's Permanent Mission, Ambassador Neil Pierre, taking over the post until a successor is appointed.
The letter notes that this is in an effort to minimise any disruption to the ongoing work of the G-77 and China. However, concerns have previously been expressed by some whether the price tag of approximately US$1 million to cover activities related to the summit, which Guyana would have to pay, was justified.
The G-77 summit was held in January of 2020 and saw Guyana taking over the reins of Chairmanship from Palestine. The summit was held at the UN and according to some persons at the time, it would have cost that sum of money to chair the occasion.
Guyana, through its Foreign Minister, Dr Karen Cummings and other officials, participated in a round of discussions. However, the Ministry has never identified any tangible benefits that accrued from the discussions.
Tumultuous
Ten-Pow's decision not to continue in his post comes at a tumultuous time in Guyana's foreign relations, where the A Partnership for National Unity/Alliance For Change (APNU/AFC) is under immense pressure from the international community to comply with democratic norms. The United States (US), where Ten-Pow was stationed, has in fact made it clear that any unlawful declaration and illegitimate swearing-in of a President will be met by sanctions.
Elections were held since March 2, 2020, but a winner is yet to be declared. The certified results from the legally conducted recount exercise supervised by GECOM and a high-level team from the Caribbean Community (Caricom) show that the People's Progressive Party/Civic (PPP/C) won with 233,336 votes while the APNU/AFC garnered 217,920.
In fact, the recount almost perfectly matched the Statements of Poll (SoPs) that the PPP/C released since March. Despite clearly losing the elections, however, APNU/AFC have been dogged in their determination to hang on to power and delay the process, first going to court to block the recount and then blocking the declaration of the results based on the recount.
Besides the election controversy, the Foreign Affairs Ministry itself has also undergone a shakeup in recent times. Last December, Ambassadors Hamley Case, posted in the United Kingdom; Bishwaishwar Ramsaroop, stationed in the twin-island Republic of Trinidad and Tobago; Clarissa Riehl, who was posted in Canada; Bayney Karran in China, Cheryl Miles in Venezuela, and JR Deep Ford in Switzerland, were all recalled and dismissed.
In addition to recalling the diplomats, Director General of the Foreign Affairs Ministry, Audrey Waddell was also replaced by a Permanent Secretary. She was cited as a possible recruit for a diplomatic position outside of Guyana. While she played a role as part of Guyana's team to the International Court of Justice (ICJ) for the Guyana v Venezuela case last week, that new position has so far not materialised.