Guyana's badminton sensation, Narayan Ramdhani continued his stellar run on the Canadian collegiate circuit, when the Alberta Colleges Athletics Conference (ACAC) tournament #2 returned on Sunday, January 22, 2023 at the Northern Alberta Institute of Technology (NAIT), Alberta, Canada.
Representing The King's University, Ramdhani enjoyed a bye to the quarter-final round, being the number one seeded player in the tournament. There, he defeated Gurmanjot Singh 21-12, 21-8. In the semi-finals, he defeated Anthony Olson 21-6, 21-14, advancing to the final, where he came out victorious against Sanskar Chopra 21-10, 21-17.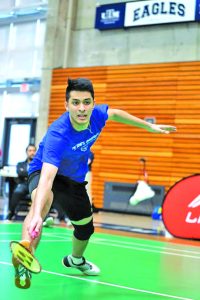 Ramdhani racked up another first-place finish, after teaming up with King's Eagles team-mate Cecilia Wolski for the mixed doubles category. The pair were the number one seeded team in that category.
In the ACAC Tournament # 1 for 2023, the top-ranking Guyanese badminton player had also placed first in the men's singles draw and in the last season of 2022, Ramdhani had a great season, coming out first in the Men's Singles Championship and was adjudged ACAC Athlete of the Year, in addition to the All- Canadian Award.
Ramdhani's next outing is expected to come next month when the ACAC Tournament #3 is held at The King's University on February 3, 2023. Thereafter, over the weekend of February 18-19, the ACAC Badminton Championships will be held to determine the athletes who will represent ACAC at the Canadian Collegiate Athletic Association (Nationals) to be held in March.