Guyana's National Anthem was played thrice at the Sir Garfield Sobers Gymnasium in St. Michael, Barbados on Sunday Evening, while the Golden Arrowhead flew proudly to signify Guyana's dominance at the Caribbean Regional Badminton Confederation (CAREBACO) Championships.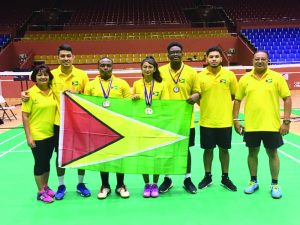 Following Guyana's participation in five divisions, the Guyanese contingent walked away with four medals, three of which are Gold.
Priyanna Ramdhani was the star of the bunch, copping Gold in the women's singles, women's doubles and mixed doubles divisions. Tyrese Jeffrey shared the gold in the mixed doubles with Ramdhani, while he and Akili Haynes copped Bronze in the men's doubles category.
In the women's singles final, Suriname's Imani Mangroe made Ramdhani work for her Gold medal in a thrilling three-set encounter. Ramdhani won the first set 21-8, but Mangroe fought back to take the second set 18-21. Ramdhani was able to pull off the victory by taking the third set 21-17.
In the mixed doubles, the Guyanese pair of Tyrese Jeffrey and Priyanna Ramdhani had a walk in the park towards Gold with a two straight sets' win over the Barbadian pair of Dominick Scantlebury and Robyn Sobers. They won 21-11, 21-9.
Priyanna later teamed up with Trinidad and Tobago's Chequeda De Boulet and dispatched Suriname's Imani Mangroe and Chaist Soemodipoero in another two- set encounter, winning 21-18, 21-11.
The Guyanese contingent will now be looking to maintain their stellar performance at the upcoming CAREBACO Senior championships.