…admits prisoners outsmarted Joint Services
Hours after the brazen escape of 13 prisoners from the Lusignan Prison, Public Security Minister Khemraj Ramjattan told a media briefing that as minister, he must ultimately be held responsible.
At the same time, he noted that he would not vacate the post, having suggested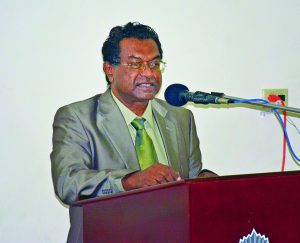 that "resignation" was not a word with which he associates himself. He further claimed that it was too early to be casting blame as to which law enforcement agency was at fault for the daring prison break which occurred some time between late Sunday night and early Monday morning.
"I don't want to start identifying who ought to take the blame, [but] I am ultimately responsible," he noted.
The Minister later explained that those directly responsible for the breakout were the security personnel that were stationed in and around the perimeter of the Lusignan correctional facility.
"There have been huge setbacks and lapses and things that could be blaming (sic) a lot of number of people here, but I would prefer as minister in charge, not to go in that direction now. We have a literal war fighting and if I'm to go start dealing with all kinds of dereliction of duty, it might not help in the process. I am urging at this point that we not go there, but there will be a time for that," the Public Security Minister disclosed.
This latest escape is the second prison break within the month and questions over the subject Minister's competence along with that of his associated stakeholders have once again surfaced. In this vein, media operatives probed the Minister if he would consider resigning from his present public security post, but Minister Ramjattan is adamant that he should remain to the end.
"I am a fighter and I am here, because I indeed wanted to help in the security sector. It is unfortunate that this thing has happened under my stewardship and it is a bad thing, but resignation is not a word that I am normally associated with…I am still standing and I believe I will still be here when all is over," the Minister stressed.
He also admitted that the situation was an embarrassing one and highlighted that prisoners outsmarted law enforcement ranks.
Minister Ramjattan has called on the public to assist law enforcement ranks in recapturing the prison escapees and wanted bulletins for all of the men on the run were issued late Monday. Five of the men have since been recaptured.
Ramjattan also revealed that the transfer of several prisoners to the renovated brick prison at Camp Street was fast-tracked owing to the recent breakout and continued "behaviour" of several prisoners. He later expressed the fear that the incarcerated men at Lusignan may undertake further means to gain their freedom.
"We feel that there will be other attempts," the Minister revealed.
He further noted that stakeholders were assessing measures to gravitate towards alternative sentencing initiatives and pre-detention trials. Meanwhile, acting Police Commissioner David Ramnarine has called on members of the public to be extra vigilant when going about their business. He also urged persons to provide Police with any information they have on sightings of the escaped prisoners.