The Chief Executive Officer (CEO) of Ramps Logistics (Guyana), Shaun Rampersad was hauled before a city Magistrate on Friday to face 10 charges which allege that the company made false declarations to the Guyana Revenue Authority (GRA).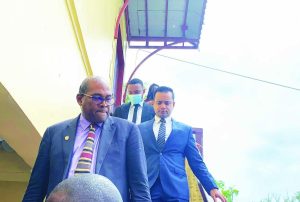 Particulars of the charges stated that between 2021 and 2022, at Georgetown, the company made several false declarations for consideration of a customs officer, on an application presented to him for tax exemption on items.
Rampersad, who was represented by a battery of Attorneys-at-Law led by Nigel Hughes, was granted $50,000 bail on each of the 10 charges, totalling $500,000.
Hughes had initially asked for his client to be released on self-bail, citing that he is not a flight risk as he returned to Guyana from Trinidad and Tobago to defend the company's integrity and that he is a businessman with assets in Guyana and overseas.
According to the prosecutor, the company falsely declared itself to be the seller of several items including heavy-duty machines, dehydrated substances, and calcium chloride.
Senior Magistrate Leron Daly, who presides at the Georgetown Magistrates' Courts, adjourned the case until November 25.
The GRA had instituted the charges against the company earlier this month.
According to the tax agency, the charges are in accordance with the provisions of the Customs Act Chapter 82:01 and stem from a recently completed investigation carried out by its Law Enforcement and Investigations Division.
In a press statement announcing the institution of the charges, the GRA said that as it continues to operate in accordance with its mandate, thereby allowing for a "level playing field" for legitimate businesses and the collection of revenue, it is encouraging individuals/companies involved in any such illicit activities to desist and bring their businesses into compliance with the nation's tax, trade, and border laws.
The 10 charges are not the first run-in Ramps Logistics, a Trinidad-based company, has had with the Revenue Authority here. It was revealed in June this year that the company was fined $20 million by GRA for violating local customs laws.
Ramps Logistics acts as the agent of motor vessel Seacor Mixteca, and, according to GRA, had failed to report the vessel departing Guyana, which violates the Customs Act; hence the fine was paid in lieu of court proceedings being instituted against the company.
In September, Ramps Logistics (Guyana) instituted judicial review proceedings against the Government over the company being denied a Local Content Certificate.
In its application, Ramps Logistics has said it is a "Guyanese company", and contends that Government's decision to refuse its application for a Local Content Certificate is not only "unlawful, unreasonable and arbitrary", but breaches the Local Content Act 2021.
The company has claimed it had satisfied all the necessary preconditions to be granted such certification and is therefore seeking a court order compelling the Government to issue the certificate and register it in the Local Content Secretariat.
In Ramps Logistics' pleadings, Logistics Director Samantha Cole deposed that if the company is not added to the Local Content Register, it will be forced to reduce its operations and dismiss a majority of its current employees. (G1)