…feels satisfied perpetrator was found guilty
An 18-year-old woman who is the survivor of adolescent rape told the Demerara High Court on Thursday that she expected more love, comfort, and care from her mother after the traumatic incident.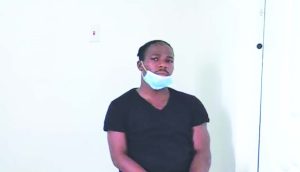 "When he raped me, I was just 15. I felt very painful and ashamed; I also felt very depressed. This incident left me feeling shameful with all the people that found out about my story…" the young woman shared in a victim impact statement.
The man she spoke of is 36-year-old Aduke Josiah of Plum Park, Sophia, Greater Georgetown. Josiah was found guilty of child rape last month by a 12-member jury after a trial before Justice Priya Sewnarine-Beharry. The prosecution's case is that the teen was left in Josiah's care when he raped her on April 8, 2018. Following the incident, the teen informed her mother who made a report to the Police.
The rape survivor said that no one knew of the conflict raging inside of her until she was given a chance to tell her story to the court. In fact, it was the most horrifying experience for her.
She expressed, "It left a mark of pain in my heart to know that my maiden was taken by someone it didn't belong to. I learned to cope my best with my family not wanting to talk about this incident at all. It was very hard; it was not easy at all for me."
The love and care she expected from her mother were not forthcoming. Although her mother was aware of what happened to her, the teenager shared that her mother would constantly abuse her. "…It was very abusive as a mother to a daughter. I expected more love, comfort, care, and protection but instead, I was verbally, physically, and emotionally abused," she said.
Nevertheless, she added that her heart is at peace and her mind is relaxed and calm now that she has told her story to the court. Though it took her four years to receive justice, the woman said that she feels satisfied because Josiah took something from her that did not belong to him.
"He made me live with that memory repeating over and over in my head every day of my life.
This is an incident that affected me emotionally, physically, and mentally for many days. I will not eat, lashing out at others, feeling depressed and crying having this memory repeating over and over in my head that I will never forget."
Josiah will be sentenced next Tuesday.