…distributes over 4000 sanitary napkins to girls in Region 6
School age girls in Region Six (East Berbice-Corentyne) were urged to recognise the advancement of women in society by First Lady Arya Ali.
She made these comment at the launch of her Menstrual Hygiene Initiative in Berbice on Friday which will benefit over 4000 school aged girls.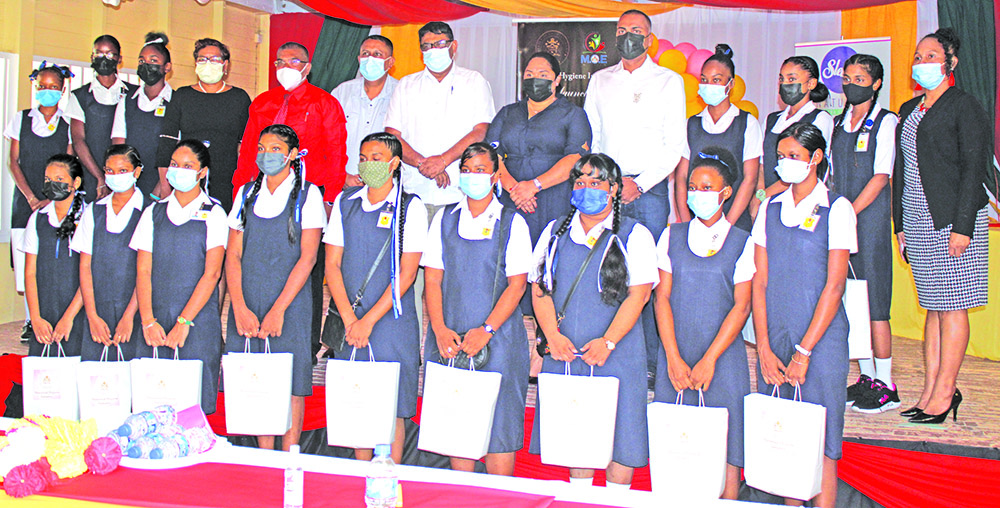 "You girls are the future nurses, doctors, lawyers, police women and teachers. You are the future leaders of this country and at no point in your life should you be forced to choose between having an education and staying home because you don't have access to sanitary products," the First Lady said.
She pointed out that it is her goal to ensure that no girl has to be deprived of an education or face such embarrassing situations because of period poverty.
The First Lady added, "Many of you will not need these pads because accessibility is not an issue for you but for thousands of other girls, they will be eager to receive theirs because it is not as easily accessible to them. I want you to therefore recognise that the advancement of women in society also depends heavily on the extent on which we as women support each other both through tangible and intangible means."
Ali partnered with overseas-based Guyanese Anter Narine, who is originally From Corentyne, for the Berbice leg of the initiative which was launched at Line Path Secondary in Corriverton.
The programme is being rolled out through the Office of the First lady in collaboration with the Education Ministry and will be targeting all ten administrative regions.
The First Lady is on a mission to end period poverty in Guyana.
Period poverty is the lack of access to sanitary products due to financial constraints; this can be caused by a wide range of life events that negatively impact on a girl or woman's ability to access sanitary products to manage a most intimate and regular occurrence in her life.
It is estimated that 74 per cent of adolescent girls worldwide experience this.
At Friday's launch, Regional Educational Officer Bhagmatie LaCruse said there is a lot of silent suffering, noting that it prevents many from attending school and it is also an embarrassing situation for some females while Region Six Chairman David Armogan pointed out that many girls are forced to get needed information on sexual reproductive and personal hygiene issues from peers.
He noted that many mothers reprehend their young daughters for raising topics on menstrual hygiene in the presence of their fathers and brothers.
"That is the culture that we have and that is why they have to go to their peers to get information," Armogan explained.
Meanwhile, Narine said menstrual hygiene should not be a taboo subject and he is doing his part to ensure that girls and women feel comfortable to speak openly about it.
He said he was happy to partner with the Office of the First Lady on the Menstrual Hygiene Initiative.