…unpreparedness leads to expulsion from hearing
By Jarryl Bryan
Even though Region 10 Regional Executive Officer (REO) Orrin Gordon walked with regional staff and his predecessor, they were unable to account for bypassing the lowest bidders for contracts and unprepared to answer questions leading to their expulsion from the Public Accounts Committee (PAC).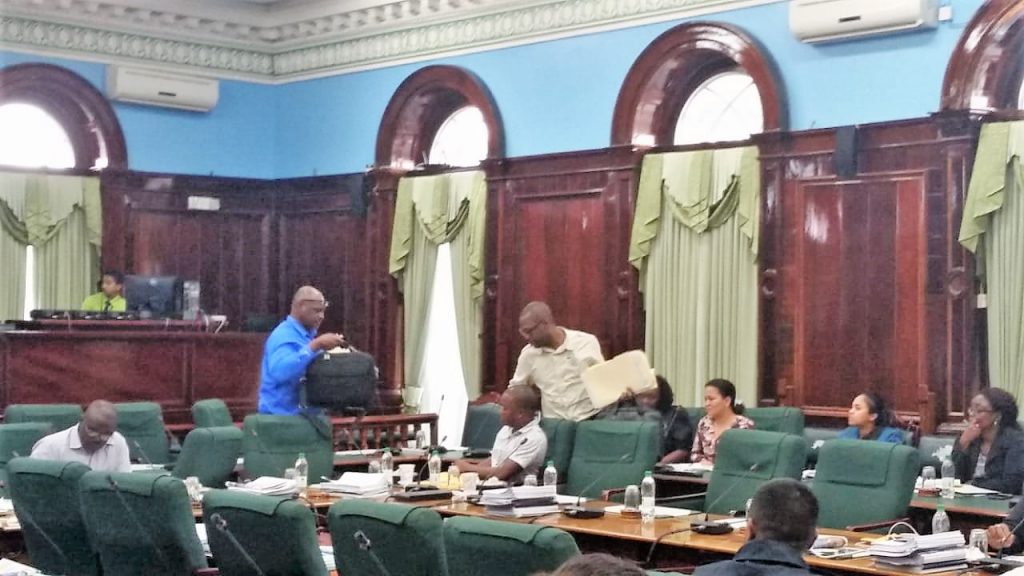 Instances of the lowest bidders being rejected by the Region 10 administration were put under the microscope by the Committee. It is understood that the Regional Tender Board allegedly awarded millions of dollars in contracts to neither the lowest nor competitive bidders.
According to former REO Gavin Clarke, the other companies were bypassed because they performed poorly on their evaluations. But the sitting quickly went south when Clarke could not provide the criteria used to evaluate these companies despite repeated requests from PAC Chairman Irfaan Ali.
"In some cases you awarded to the sixth and seventh lowest bid. Can you explain to PAC the reasons not to have awarded the contract to sometimes up to the sixth lowest? For example, the Mackenzie Primary School repairs and maintenance work?" Ali asked.
"Mr Chairman, on review of the evaluation report, along with the tender minutes, it was revealed that the sixth lowest bidder was awarded having obtained the highest evaluations score of 84 per cent," Clarke responded.
This did not bring much clarity to the issue, as Ali was trying to ascertain on what grounds the other companies were marked down. But despite repeated requests for specifics, Clarke continued to give general responses and percentages to Ali and the Committee.
"The fifth lowest bidder obtained 74 per cent," Clarke began, but was promptly stopped by Ali, who informed him that "percentages does not help us! The reasoning, what were the factors in the evaluation score? What were the criteria?"
The Chairman even went so far as to outline examples of criteria to Clarke, such as National Insurance Scheme (NIS) compliance and experience, but to little avail. This prompted the Chairman to question whether attempts were being made to mislead the Committee.
Absent evaluation report
As Clarke had made reference to an evaluation report, it was thought that this could improve the process and so Ali requested it. After being asked repeatedly for the report and a thorough search of his desk, Clarke eventually claimed not to have come with it. Ali then asked Gordon if he had seen the report. At first, the REO fumbled.
"REO, there's no need to guess, you know! Your former REO is saying he had no criteria like that. REO, can you tell me the criteria?" Ali asked. Gordon related that there were issues with personnel, tools, and experience in the companies who received low scores.
"So you saw the evaluation report, you saw the criteria; you saw the percentage at each criterion?" Ali further asked. Gordon responded in the affirmative. Ali, therefore, instructed the auditors present in the chambers to check for these reports.
More tension would follow when Gordon was questioned over the overpayment of $394,962 to a contractor for the construction of a fence at the Coomacka Nursery School. Gordon could not even provide the Committee with the date the contract was signed. He merely gave estimations.
Committee Member, Public Health Minister Volda Lawrence pointed out that "accounting is an exact science: you don't guess or say next week; it's an exact science. The Chairman is asking for the date, you cannot go back and give him the same answer."
"Ask one of your officers to provide the information. If they don't, then let them get up, go outside, and call the office, and get the date, and just ask the Chair if we can hold on the question while you get the answer."
When they returned without this information, Ali exclaimed: "This has to be unacceptable. You're coming here and a simple question like the date a contract was signed, you cannot say? Did you walk with the contract?"
When Gordon replied in the negative, Ali turned to the auditors who provided the date December 16. But when the Region 10 REO could not say when the final payment was made after being asked by the Chairman, things had gone too far.
"Sir, sir, you're testing my patience personally… You can't look down at a paper, say you don't have that and then proceed and just dismiss me like that. You were asked to bring all the information. I am feeling for the PS. You guys know the type of questions; you will sit out there and get your act together!"