The talented Alexander Leung of the We Stand United cycle club on Sunday stunned a field of senior cyclists way above his age and experience when he copped the overall title in the 17th annual Regan Rodrigues Memorial cycle race held on the West Demerara roadways.
Crossing the finish line in first position at Schoonord, where the 44-mile race commenced before turning back at Bushy Park, Parika on the upward journey, Leung stopped the clock at one hour, 41 minutes, 28.45 seconds (01h: 41m: 28.45) to finish ahead of Alex Mendes, Kemuel Moses, Paul DeNobrega, Segun Hubbard and Deeraj Garbarran in that order.
After the race, Leung expressed gratitude to his parents Maria and Engelbert, his brother Lee, and his teammates for their support on race day.
"The race was a bit challenging, I must say," Leung said after his victory.
"It was really hard to establish the break going up; and, coming down, the breeze was hard, but with the help of my teammate Briton John, everything came true.
"It (feels) really good to win a senior race, because not every day you see a 14-year-old pick up a bike and go and ride and win a senior race."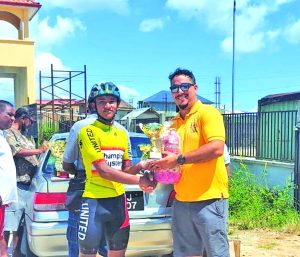 By virtue of his overall success, Leung became the automatic winner of the Junior category, winning ahead of Aaron Newton and Sherwin Sampson, who ended in second and third place respectively.
Mendes and Hubbard took respective first and second places in the Veterans race, followed by Kwame Ridley in third and Paul Choo-Wee-Nam in fourth.
Ian Jackson copped the award for the oldest cyclist to participate in the race.
Sponsored by Ricks and Sari Agro Industries Limited, the race was coordinated by national cycling coach Hassan Mohamed.
Businessman Regan Rodrigues, who passed away in August 2004, had served as President of the Carlton Wheelers cycling club, and had also been a champion race car driver.