Fishermen in Region Two are complaining about the demands of Guyana Defence Force Coast Gaurds who are demanding they hand over their "best" catch when they are stopped at sea.
The issue was raised on Tuesday when the Region Two fisherfolks met with the Regional Chairman Davanand Ramdatt, Chief Fisheries Officer, Denzil Roberts, G Division Commander, representatives from the Coast Guard, Maritime Administration Department (MARAD), RDC councillors and other officials to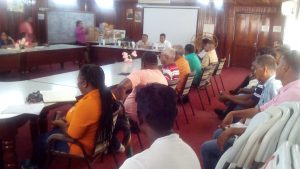 discuss the many issues facing the fishing industry. The meeting was held in Regional office boardroom.
According to the Fishermen although MARAD have an office in Charity they are still forced to travel to Georgetown for licensing of boat captains and inspections of boats.
During the meeting the fishermen complained bitterly of alleged corruption in the system.
Some of the fisherfolks stated that although they paid for their licenses, it takes a long time to process. They said that this has caused a lot of issue with them and the coast guards, who demand their best catch if they explain that the license are still being processed.
As a result of the allegations, a committee of six persons was formed to represent the Essequibo Coast Fishing Industry at a Government level and will meet regularly with the Region to iron out the problems facing them.