Hundreds of issues facing residents of Region Three (Essequibo Islands-West Demerara) were addressed during a Presidential Outreach on Thursday, with persons lauding the swift response to have their concerns heard and remedied.
President Dr Irfaan Ali addressed matters from residents on the first day of the Office of the President-direct outreach at the National Track and Field Centre at Leonora, West Coast Demerara (WCD).
On the ground were Senior Minister in the Office of the President, Dr Ashni Singh; Housing and Water Minister, Collin Croal; Education Minister, Priya Manickchand; Sport Minister, Charles Ramson; Local Government and Regional Development Minister, Nigel Dharamlall; and Minister within the Public Works Ministry, Deodat Indar.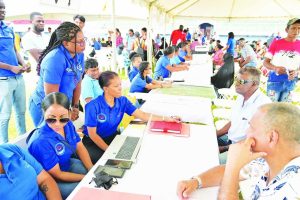 Among the matters, included a 30-year leasing issue affecting dozens of residents of Tuschen, who have been trying to get documents for their land.
The President assured the residents that the issue will be addressed by the Guyana Lands and Surveys Commission (GLSC).
He noted that it is essential to reduce the bureaucratic hassle and to understand the difficulties people face.
"I think this is very important in improving efficiency, removing bureaucracy and bringing governance to the people and allowing people to experience governance in their own environment. Sometimes people are not comfortable in an environment…seeing people in a suit and tie. But in an environment like this, they're more comfortable in handling matters…"
To advance the issues, each person that visited the outreach was given a number electronically, the president and his team were then able to point persons in the right direction to either resolve their issues or put measures in place to solve them, in the shortest possible time.
"Moving our government system more to an electronic form, where technology is used…is what we have to get to."
He said that the Government, through the various ministries have been to numerous locations in Guyana in a quest to solve issues affecting Guyanese, so far over 6000 NIS issues have been rectified.
To successfully execute as many cases during the two-day event, systems were put in place to have real-time monitoring of the status of cases brought forward by citizens.
A majority of the issues resolved related to the National Insurance Scheme (NIS), housing, and other matters at the regional level.
A team from Housing Ministry was able to assist persons with access to critical services including; the processing of new applications, queries on existing applications, squatting and regularisation issues, titles and transport, applications for the Steel and Cement Housing Subsidy and all other housing and infrastructure related matters. The team was also able to resolve longstanding housing issues and facilitate on-the-spot interviews for house lot applications while updating existing applications.
A regional team from the Guyana Water Incorporated was also present to lend support and guidance.
Surrounding the issue of housing, Hanuradha Sahadeo expressed her satisfaction at the process, which she hopes will soon result in her benefitting from a plot of land.
She shared, "I am a single parent paying rent and I am really interested in a land. By the help of the workers, it was really good. I got assistance and I am just waiting on a phone call now from them. I am really interested in the land and where I am living is not convenient."
Another resident, Jennifer Thomas stated, "I get to meet the people very quickly. [It was] so nice of the President."
Meanwhile, Amjat Shaw noted that he was able to have his matter rectified by being updated with the information he was requesting for some time at the regional department.
The Immigration Support Services Department and General Registers Office at the outreach saw persons accessing critical services, including the processing of births, marriages, and deaths; overseas and late registration; and other queries and concerns. The public was also able to access visa services and query all other immigration-related matters provided by the Immigration Support Services of the Home Affairs Ministry.
NIS queries ranged from registration of employed and self-employed persons, issuing of NIS cards, printing of contribution statements, resolving benefits queries among others.
Pensioner Jasmattie Narine explained, "I had a problem with my NIS. It cut out and three months now, I run all over the place and couldn't get an answer. But today, I'm here and I got an answer and my heart is filled. It's very nice."
Through the Human Services and Social Security Ministry, the backlog of old age pension and public assistance booklets was also addressed.
The ministry outlined, "No new applicants are receiving books. All books distributed at this exercise have already been approved by the Local Board of Guardians and processed in the system. They are merely being printed on site for ease of the logistical challenges faced by beneficiaries."
This outreach will continue today, March 31 where the Ministries and other agencies will be on site to listen to concerns of residents at the same location. This is the second Office of the President-Direct outreach, which is aimed at bringing Government services to persons outside of Georgetown. (G12)