The Region Six (East Berbice-Corentyne) Regional Health Services has seen a dramatic decline in HIV transmission to children following the widespread dissemination of anti-retroviral treatment for mothers living with HIV.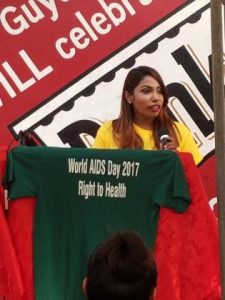 This observation was made by Doctor-in-Charge of TB programmes within the region, Dr Anita Lalbachan, at a World AIDS Day celebration, in New Amsterdam.
Addressing the gathering at the annual awareness programme, Dr Lalbachan also noted that despite the overall gains, considerable challenges remain for Region Six, which still has an unacceptably high HIV prevalence among key populations.
Also attending the ceremony were representatives from all three of the region's hospitals – Port Mourant, Skeldon, New Amsterdam; Regional Chairman David Armagon; as well other regional representatives, nurses, doctors and students.
Foster explained that this year's worldwide theme –  'Right to Health' –  was chosen because it has been acknowledged despite the numerous strides that have been made in bringing attention to this dreaded disease, persons who are infected are still not given equal access to healthcare services.
The Regional Chairman urged Berbicians and residents beyond Berbice to visit their healthcare facilities regularly and make use of the HIV/AIDS tests that are available.
Each year, this local aspect of World AIDS Day observance is marked by making a donation to the National AIDS Programme Secretariat by assistance to persons living with HIV and AIDS.