By Delvon McEwan
Subsequent to West Indies Under-19 success at the 2016 ICC Youth World Cup which was held in Bangladesh many Caribbean youngsters were inspired therefore wanting to emulate the feat.
Such was the case with Guyana and Demerara Cricket Club (DCC) Under-19 Raymond Perez, who at that time witnessed two of his club peers, Tevin Imlach and Keemo Paul, contributing significantly to a historical moment as West Indies youth team won the world cup.
Because of what happened in Bangladesh as well as being motivated by a rapid transformation by one of his team mate Bhaskar Yadram, Perez was inspired down a path of success.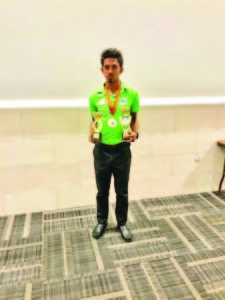 And he did it quickly as he recovered from a horrible outing in his debut Regional under-19 season in St. Vincent in 2016 to finish as this year's MVP and leading runs scorer in the limited over version of the said tournament.
The right handed opener recorded 348 runs from a total of six matches at a healthy average of 116 as he only got out thrice from six innings. He also accounted for four half centuries with a top score of 77 in his final outing against Windward Islands.
The 18 year old who patterns his batting after Indian batting prodigy and Captain Virat Kohli, also made an impact for his team in the three- day version of the tournament with returns of 243 runs at an average over 30.
Because of his contribution as well as a collaborative effort from the rest of team Guyana, they were able to win both the limited overs and three- day titles.
Perez is thankful that he was given the opportunity to bat at the top of the order in his usual role as an opener. He said it did a great deal for him because he likes the ball coming on to the bat.
Due to his resounding performance during the Regional tournament, the youngster is optimistic of finding a place on the West Indies squad for the ICC Youth World Cup in New Zealand in 2018.