As the novel coronavirus struck Guyana back in March, restaurants and bars shuttered, while some businesses have closed for good.
Now restaurants in Guyana are able to make creative moves to keep afloat through the remainder of the year 2020.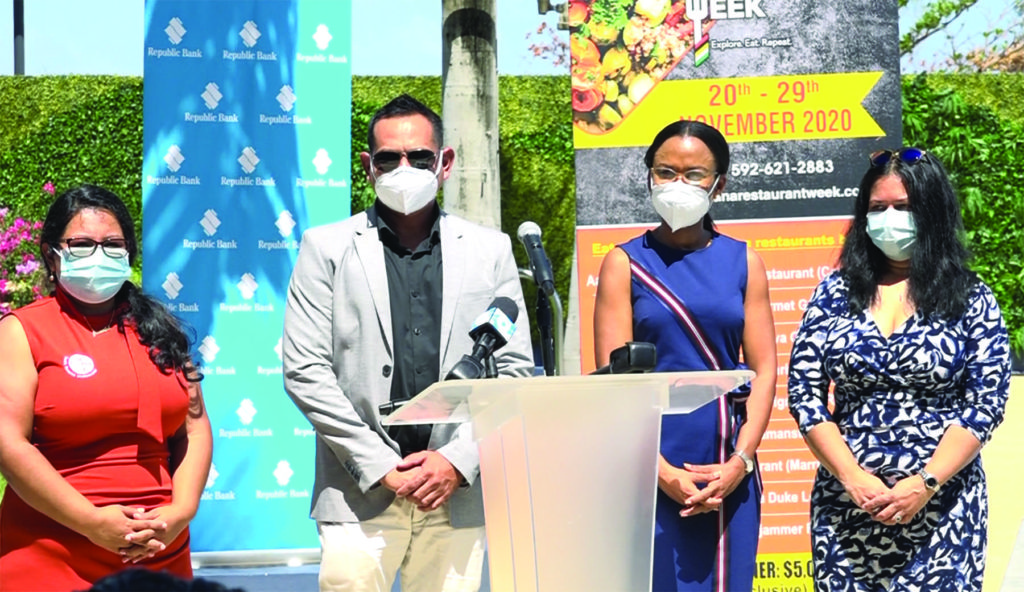 During these few days, some restaurants are trying to expand outdoor dining, while some will be launching their annual menus for the Guyana Restaurant Week.
Guyana Restaurant Week was officially launched on Friday at the Marriott Hotel, in Kingston, Georgetown, where officials are ready to assist their local businesses in what is a week dedicated to supporting and sampling delicacies.
The initiative that commenced in 2015 is now in its 10th season.
Tourism Minister Oneidge Walrond at the launch said that it is important that Guyanese start to participate in dining out again as the country shifts into a new normal.
"The success of the Restaurant Week will speak to the resilience, the dedication that we have as Guyanese to our local product. We see foreigners coming to enjoy what we have, to see what we have; everyone is curious about what Guyana has to offer. So, let us as Guyanese take the first step to show confidence in what we have, to put our monies, our efforts into supporting what we are doing," the Minister said. She noted that Restaurant Week will also boost the economy.
"It just shows you that as our tourism sector … starts to engage back into activity that there are other trickle-down financial benefits for everyone else and so the delivery services that will be used brings back employment," Walrond added.
According to the Tourism and Hospitality Association of Guyana (THAG), this year's event is expected to bring families and friends closer together, given the impact of COVID-19.
President of THAG, Mitra Ramkumar in his remarks at the launch said Guyana Restaurant Week will allow persons to gather in safe spaces during outdoor dining, while having the option of pick-up and delivery.
Those who are interested in supporting restaurants in Guyana from November 20-29 can visit the websites to view menus. They will be given the opportunity to select, place orders and make reservations.
"This will limit the time spent in public and still offers patrons a rewarding experience.
Although it will be outdoor, attention is being placed on the ambience in which fine dining is expected to take place," he said.
Meanwhile, Head of the Guyana Tourism Authority (GTA), Carla James also revealed that there will be several go green initiatives this year.
On the other hand, Minister of Tourism, Industry, and Commerce, Oneidge Walrond encouraged Guyanese to support the annual event.
"As we come out of this COVID stalemate where we have not been going out, this presents an opportunity for us to do so safely and also showcase the best of what we have," she said.
This year, menu prices will remain unchanged – two-course lunch menus at $3000 (VAT Inclusive) and three (3) course dinner menus at $5000 or $6000 (VAT Inclusive).
To facilitate the timely delivery of GRW menus, the THAG has engaged the services of two logistic service providers – Hero Cart and Onecart. Further, some restaurants have maintained their service providers to facilitate the delivery of menus.
The complete list of participating restaurants is as follows: Aagman Restaurant; Café Bellvana; Cara Lodge, Hibiscus Restaurant; Java Coffee Bar; Jaxx International Grill, MovieTowne; New Thriving Chinese Restaurant – Main Street, Georgetown; OMG! Arawak Steak House; Sucre Restaurant (Herdmanston Lodge); Terra Mare Restaurant (Guyana Marriott Hotel); The Duke (Roraima Duke Lodge); Watooka House (Township of Linden); Windjammer Restaurant; Signature Restaurant; Gourmet Grub.