The 10 cricket teams of the Rose Hall Town Youth and Sports Club (RHTY&SC) on Sunday last continued their community development programme by donating over $600,000 worth of items to several Non-Governmental Organisations (NGOs), cricket clubs, youths and an elderly resident.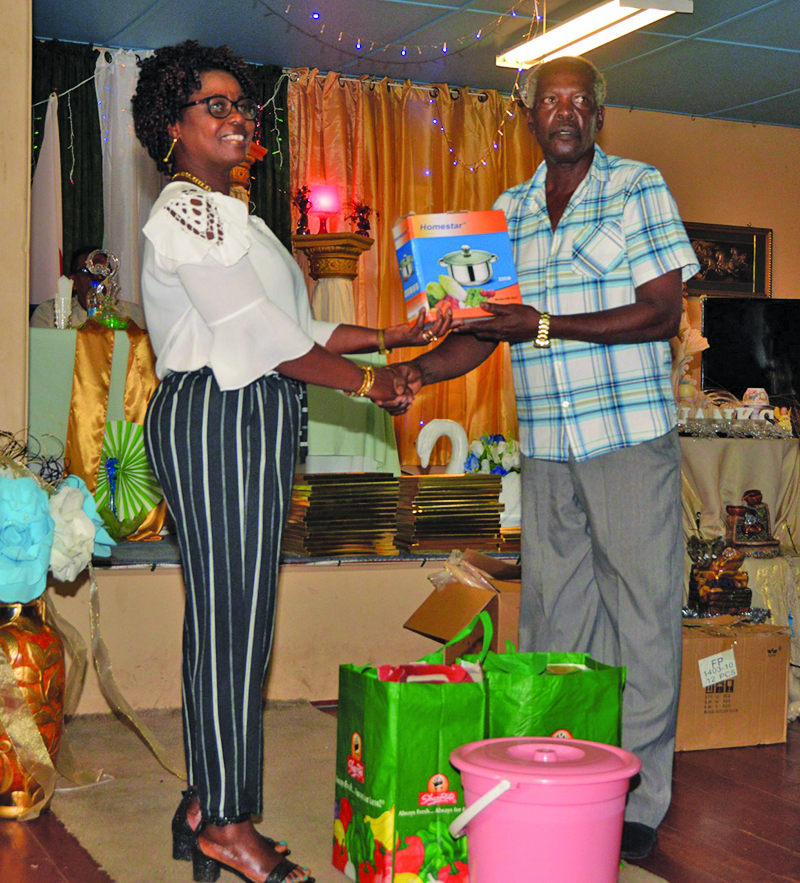 The teams – Poonai Pharmacy Under-12 and Under-13, Farfan & Mendes Under-15, Bakewell Under-17 and Second Division, Pepsi Under-19 and Intermediate, Metro Female, Gizmos & Gadgets Under-21 and First Division – are mandated by the management of the Club to successfully completed a target of 300 activities combined as part of their personal development and to make a positive difference in the lives of youths, the less fortunate, and elderly.
The 10 teams, with co-sponsorship from the National Sports Commission (NSC), handed over cricket balls to 20 clubs.
Among the clubs benefiting from the donations were Chesney, Guymine, Mt Sinai, Upper Corentyne, Whim, Rose Hall Canje, Kildonan, Port Mourant, Mental Hospital, Edinburgh, Young Warriors, and Police. The teams also donated six trophies, 12 medals and a bicycle to the Upper Corentyne Cricket Association towards the hosting of their second Annual Award Ceremony while the Rose Hall Town Hindu Temple, on special request, received a large quantity of trophies and medals towards the hosting of a fundraising Day of Sports.
The Edinburgh Cricket Club also received a complete set of cricket stumps and also benefited from a donation of four special prizes to host a fundraising raffle for the East Bank-based team.
RHTY&SC Secretary/Chief Executive Officer (CEO) Hilbert Foster also fulfilled a commitment to a 12-year-old cricketer from the Edinburgh Club by handing over a complete educational package to assist him in his educational career. Others to benefit included a nurse from the Port Mourant Hospital whose house was recently burnt down. Claudia Ross recently received a quantity of kitchen utensils while the team donated a new bicycle to a resident of Mt Sinai, New Amsterdam, to assist her to get to work after thieves stole her old one at her workplace.
The Berbice Cricket Board also benefited from a donation of stationery and office equipment.
Foster stated that the Club was proud of the outstanding work of its cricketers on and off the cricket field. He strongly believes in making a positive difference and in the creed that 'the more you give, the more blessings you receive'.
Foster, who is also the President of the Berbice Cricket Board, hailed the Club's 300-plus cricketers as true representatives of its brand, and urged them to maintain the high standard they have set themselves under the Cricket Management Committee of Keith Hicks, Simon Naidu, Tyrone Pottaya and Ravindranauth Kissoonlall. Among the numerous players of the RHTY&SC involved in the programme were Shemaine Campbelle, Clinton Pestano, Kevlon Anderson, Sheneta Grimmond, Shabiki Gajnabi, Kevin Sinclair, and Erva Giddings.