The Rose Hall Town Youth and Sports Club, M.S and its over 35 Group on Monday, April 3 are set to launch a special programme directed to assist about 300 old age pensioners in Rose Hall Town area on a monthly basis.
The programme was approved at the Club's biannual General Meeting which was held on Tuesday, February 28 at the J.C. Chandisingh Secondary School and would involve the distribution of refreshments and snacks to pensioners at the Rose Hall Town Post Office as they wait to uplift their monthly pension.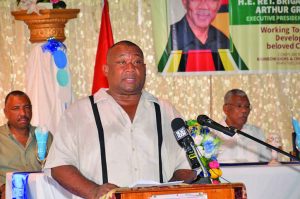 Newly elected Vice President, Mark Papannah stated that several pensioners had approached Club Secretary/CEO Hilbert Foster about the Club assisting them on the first working day of each month. It was explained that hundreds of senior citizens turns up as early as 5:00h to uplift their pension and the majority of them have to wait until afternoon to do so without meals or snacks. The eight teams that would join hands with the Over 35 Group are the RHT Farfan and Mendes Under 15, Bakewell Under 17 and Second Division, Pepsi Under 19 and Intermiade, Metro Female and Gizmos & Gadgets Under 21 and First Division.
The Club would provide a breakfast to each pensioner who needs one and arrangements would be put into place to accommodate at least 300 pensioners. Papannah explained that the programme would be held under the Club's Tribute to Senior Citizens Campaign.
Plans would also be put into place to provide some of the pensioners with food hampers in an effort to make their lives better. Funding for this monthly project would be obtained by hosting several fund raising events by the eight cricket teams.
Club Secretary/CEO Hilbert Foster disclosed that the RHTY&SC, M.S would be placing special interest on the welfare of senior citizens during 2017 as it is important to recognise their contribution to the development of Guyana.
Among the programmes that would be hosted and directed to Senior Citizens are tributes to heroes, role model mothers and fathers and Ansa Mcal Region 6 Award of Excellence.
Outstanding senior citizens from the township of Rose Hall would also be honoured as part of the 175th anniversary celebration of the purchase of Rose Hall by 57 freed slaves in 1842.