The Indigenous community of River's View has taken pride in being the first in Region 10 (Upper Demerara-Berbice) to host the Heritage month celebrations. Scores of residents and officials ventured to the riverine location on Tuesday, to indulge in the cultural activities presented by the community. The activities were in keeping with the theme of the observance, 'Maintaining our traditional practices while promoting a Green Economy'. Upon entering the community by boat, patrons were greeted to an atmosphere of Indigenous music, food, drinks, cultural presentations, including songs and dance, as well as modern and traditional arts and crafts. Cultural presentations set the atmosphere for the month-long activities which Guyanese and visitors are being welcomed to experience by the community which is nestled on the right bank of the Essequibo River.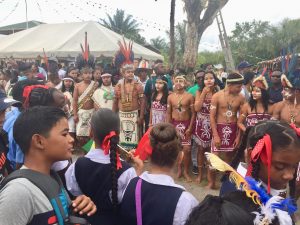 In his opening remarks at the ceremonial occasion, Toshao of River's View Kenneth Edwards extended a heartfelt welcome to all venturing into the host village.
In delivering the feature address at the event, President David Granger congratulated the community on the occasion, positively declaring that it is on the verge of prosperity.
"River's View is a special village. It straddles Regions Seven and Region 10, the Upper Demerara- Berbice and the Cuyuni- Mazaruni- two of the richest Regions for mining and logging in this country…River's View could provide a good life for everyone- a hundred and forty-four thousand square kilometers…River's View is right on the verge of prosperity, on the verge of mining, of logging, of farming,…eco-tourism. All of these economic activities can bring wealth and prosperity to the people of River's View and this beautiful village", the President said.
"But how will you do it?…You will do so with an educated population…", he said.
The Head of State continued by stressing the importance of education, as he noted that it is central to the development of not only of River's View but the entire Indigenous community and the rest of Guyana. Citing that Heritage month also coincides with Education month, the president stressed that it is only through education that the children will be equipped and able to develop the economies of the regions.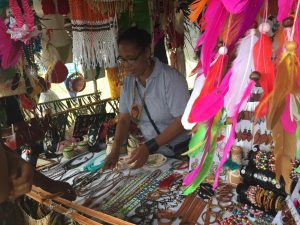 The president went on to say that leaders such as village elders, toshaos and Councillors all have a tremendous amount of knowledge and experience which they can teach the younger generations.
President Granger also noted that villages are responsible for the development of every child, hence, if they falter so will the children. He went on to stress importance of villages, not only to Indigenous people but other ethnicities, noting that they are the "cradle of culture".
As such, the President urged full support for Guyana's villages, emphasising that they rest on the pillars of the home, school, church and the farm.
Pointing to the Green State Development Strategy, President Granger noted that villages have an important role to play in protecting the environment. He said River's View has an important role to play in protecting the Essequibo River and preserving its biodiversity for generations to come.
Meanwhile, Indigenous People's Affairs Minister, Sydney Allicock in his remarks pointed to the importance of the community in contributing to the cultural and economic prosperity of Guyana.
In referencing several accomplished Indigenous scholars, the minister noted that the economic ventures of the people also warrant celebration.
In this light he highlighted developments such as the first sun-dried tomato system in the Pakaraimas and the first lapidary in Monkey mountains, noting that such achievements will be long remembered as part of history.
He further noted that Indigenous People's have an important role to play in ensuring that development initiatives undertaken in their villages are in keeping with the protection of the environment as well as the use of natural resources in a sustainable manner. Minister
During the observance, the community also celebrated by highlighting the lifetime contributions of Indigenous Political advocate the late Stephen Campbell and other outstanding Indigenous leaders. President Granger also presented the community with an outboard engine at the event.
Region 10 Chairman Renis Morian was among some of the officials present at the event. Heritage Month previously known as Amerindian Heritage Month, Amerindian Heritage is an annual observance that is held every September in Guyana in honour of Guyana's indigenous peoples. The late President Cheddi Jagan in 1995 declared the month to honour the contributions of the nation's first peoples. (Utamu Belle)