…to prevent protest against Govt – Police
…commuters complain bitterly of inconvenience
It was chaos in the capital city on Tuesday, after all roads leading to the Ministry of the Presidency were blocked off by the Guyana Police Force (GPF) – which said it was instructed to do so to prevent any protests against the Government.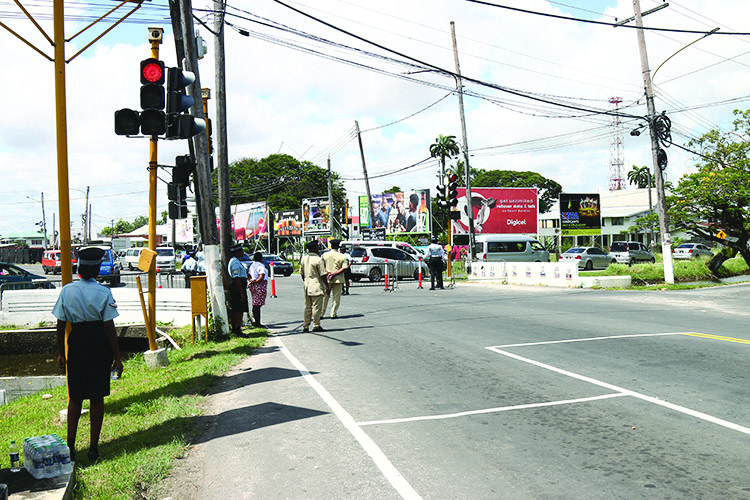 "The Office of the President is being cordoned off due to anticipated protest action by whatever political party or nongovernmental organisation," a Police source informed Guyana Times.
The Police Force blocked Vlissengen Road between North Road and Homestretch Avenue, South Road between Oronoque and Vlissengen Road, Charlotte Street between Oronoque St and Shiv Chanderpaul Drive and Regent Road between Shiv Chanderpaul Drive and Vlissengen Road, Georgetown.
While no protest actions were planned, the Police source said the roads were blocked "just in case".
Abuse of authority
Customarily, during protests against the Government, persons would assemble on Vlissengen Road outside of the Ministry of the Presidency.
It is unclear why instructions would be given to the GPF to restrict citizens from exercising their democratic right to freedom of expression.
The blocking off of the roads ignited the ire of many road users who took to social media to complain bitterly about how the alleged abuse of authority has inconvenienced them.
The current coalition Government has been recognised by the international community as operating outside of international standards of democracy – following its failure to hold elections in accordance with the country's Constitution.
The roads were blocked off at a time when caretaker President David Granger was meeting with his Cabinet to discuss a possible date for elections, given that the Chairperson of the Guyana Elections Commission (GECOM) had last week informed that the entity would be ready for the polls by the end of February 2020.
The blocking off of the roads also comes after there was a massive candlelight vigil on the Railway Embankment Road Monday night outside of the Arthur Chung Conference Centre – where caretaker President David Granger delivered the feature address at Chinese Government event.
That incident resulted in the Police riot squad being called out to stand-off with peaceful protesters and the blocking off of the road, causing a major traffic build-up during the evening rush hour.
The protesters, comprising of civil society and supporters of the People's Progressive Party/Civic (PPP/C) expressed concerns about the legitimacy of the current Government.
The protesters were also calling on the Head of State to announce a date for elections.
Already, the Commonwealth, as well as the United States of America, the United Kingdom, the European Union, Guyana's private sector and members of civil society have recognised the current Government as being in breach of the country's Constitution.