Route 42 (East Bank Demerara) bus drivers came out during Monday morning peak hour to protest the Mayor and City Council's (M&CC's) decision to relocate vendors to their park.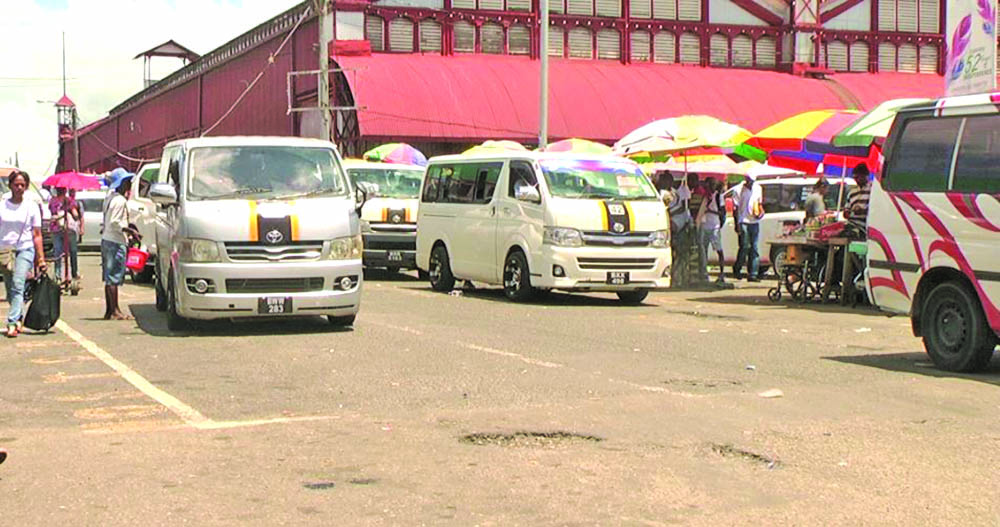 They held a protest that started on Brickdam, Georgetown and stretched all the way to Lombard Street, where bus drivers were fussing through the paved corridors to secure a spot as soon as one departed from their location.
As part of the Council's decision, the bus park which was designated to the drivers was cordoned off with steel barricades, preventing the drivers from entering the area. It has been indicated that this spot would be used to facilitate vendors from the Stabroek Market Wharf, which since 2016 has been in a deplorable state. Efforts are now being made to effect repairs to this wharf after sections would've collapsed about two weeks ago.
Many drivers and vendors who operate at the wharf area have indicated that there should have been proper arrangements for their accommodation, and the idea for the relocation should've been reviewed thoroughly to address the downsides and other shortcomings.
Speaking with this publication, the drivers said they have been the target of the City Constabulary and Police officers, and are usually arrested after voicing their opinions and distresses.
Some of the concerns raised include the fact that drivers have no official space to operate, and as such, they are forced to utilise the roadway, causing major traffic buildup at peak hours. At Brickdam leading into the ferry stelling, the one-way path is being used as a dual lane and is incapable of holding all of the minibuses.
"You see, this is a one way and when we can't get through from where we used to, then we got to drive through this madness. We using the road to park now, but we can't help it," one of operator explained.
He noted that during rush hour, many drivers also utilise the Lombard and Hadfield Street intersection to load their buses.
Moreover, when fire trucks are deployed by the Guyana Fire Service (GFS) on Water Street, it takes them ages to manoeuvre through the buildup of buses and successfully exit the chaos.
"If somebody house burning down and they call for help, how they getting out from here if we can't even get out? This is a real mess City Hall create here," said Murray (only name given) as he uttered his concerns.
Some street merchants who vend along the roadway posited that they are facing significant losses as well, since the buses are parked in front of their stalls.
"The Mayor and the Government need to sit and think about what they're doing. When you look at it, just to house some vendors, you're putting so much people through this inconvenience, and in so many ways! Look at how these men have to work; and through all this traffic," a Brickdam Street vendor explained.
The operators stated that efforts were made in the past to contact the Town Clerk Royston King, but to no avail.
Meanwhile when contacted, the Ramp Road hire car drivers stated that they were approached by the bus drivers to organise the protest. However, their issues were resolved, and they were given a space to operate after finalising that they would pay a weekly fee of $1500.