The Guyana Tourism Authority (GTA) and Visit Rupununi on Friday launched the presentation of the Rupununi calendar of events in an effort to promote and market the area as a tourist destination.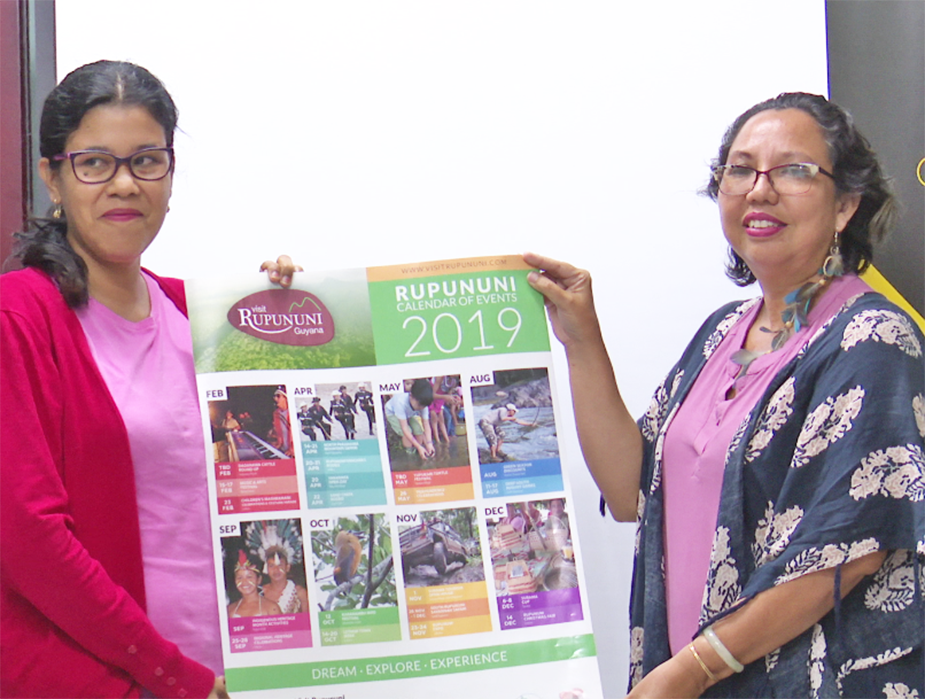 In brief remarks at the launch at the GTA boardroom, Sophia Exhibition Site, Greater Georgetown, the agency's Director, Brian Mullis said the Rupununi calendar of events was one of many marketing initiatives that the GTA and Visit Rupununi would be working on to ensure tourism development.
Mullis noted that these initiatives are major marketing tools that the Guyana Tourism Authority will be using, as well, to show case trade shows abroad.
The GTA Director highlighted that the partnership achieved with Visit Rupununi helped in the areas of marketing of new products and product development, joint ventures in community meetings and scoping, especially in training and capacity building.
He noted that the Agency was involved in tour guide training for North Rupununi residents, and hopes to facilitate a boat captain training soon. The GTA Director urged the public to visit the Rupununi.
Visit Rupununi's Tourism President, Melanie McTurk, noted that Visit Rupununi stakeholders recognised that strengthening the linkages between the region's population, local and international NGOs regional and nationally especially the formalising of strategic partnerships with national tourism bodies such as the GTA and THAG will play a critical role in achieving this vision.
"Over the past three years, Visit Rupununi has worked with a mixture of community-based enterprises, private operators, regional organisations and most notably the Regional Democratic Council (RDC) and the GTA to provide access to various training opportunities, representations at exhibitions, technical advice and as a forum for information and stakeholder input on a range of issues relevant to the development and enhancement of the sector".
While echoing similar sentiments, Coordinator Candace Phillips said the production of the events showcased collaborative pieces that exhibited the key areas of the Rupununi.
She noted that the folders provided information on accommodation, tour operators and titled Amerindian villages. Phillips expressed gratitude to the GTA for publishing the first prints of the Rupununi calendar of events since it minimises the cost of the printing materials.
The calendar for the first time allows visitors and prospective visitors at a glance to know what are the big events and more importantly when.
For the domestic and international travelers, it will hopefully serve to provide information on the variety of products available and reiterate that the Rupununi is one destination with a variety of products to offer.
Travellers who seek more information can visit the website at http://www.visitrupununi.com/
Visit Rupununi was established in 2015 to develop international and local tourism through capacity building of communities and tourism service providers to market the destination, raising awareness within local communities and supporting the establishment of tourism services to provide quality, diversified and safe tourism and conserve the nature-based, traditional heritage of the Rupununi.