Burning welder's body
…body burnt after cop left crime scene for assistance – Crime Chief
A well-known sawmill owner from Corentyne, Berbice, along with some of his employees could face jail time for perverting the course of justice among other charges related to the burning of a welder's body to ashes before Police could investigate his death.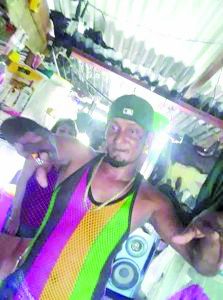 The dead man, Yogindra "Steve" Ramkarran, was employed at a sawmill and is said to have mysteriously died about 100 feet from the camp he was employed at in Berbice on
July 4, 2019, but his co-workers burnt his body after allegedly being instructed to do so by their boss.
However, their employer continues to deny the allegations.
Crime Chief (ag), Senior Superintendent, Michael Kingston in a telephone interview with Guyana Times on Saturday stated that when the police received a report about Ramkarran's demise, a rank was dispatched to investigate.
However, due to the distance of the crime scene, it took some time for him to arrive at that location. Kingston explained that when the officer arrived, he found a decomposed body, which he was told was that of Ramkarran's.
"Indeed the body had begun to decompose. So the police left to go and get assistance and when he returned with the assistance, that is what they had done [burn the body]. The police had no involvement in the burning of that body, none at all, the men in [the] workplace said they were acting on the instruction of their employer [in burning the body] but he denied this," the acting Crime Chief said.
As a result of this, the workers who burnt the body, along with their employer, were arrested and held for the mandatory 72-hour holding period as investigations were underway.
However, according to the Crime Chief (ag), this case is a "bizarre" one and, therefore, legal advice is necessary on the way forward.
"We have to seek legal advice. It is a matter of, it is one of these strange matters that we never really had to deal with before, so we had to seek legal advice. The file is presently with the legal adviser at the Director of Public Prosecutor's chambers," he said.
Testing on bone sample
He stated that although it has been alleged that the ashes from the decomposed body belong to Ramkarran, the necessary testing needs to be conducted, for confirmation.
According to the acting Crime Chief, samples of the remains will be tested at the Guyana Forensic Science Laboratory (GFSL) to confirm the identity.
"We had a crime scene team that went up into the area, we took whatever bone sample was there and samples were also taken from the relatives. That is basically for DNA purposes, we will utilise the services of the [GFSL] lab unless they tell us that they are incapable. But for now, we will utilise the services of the lab and a file has already been compiled and sent for legal advice on this matter."
Meanwhile, according to a senior officer close to this case, there is at least one charge that the employer and co-workers of Ramkarran can face, if indeed it is his ashes and bone sample that was recovered.
"There is a charge such as disposing of a body…disposing of a body other than in the rightful means or charged of disposing of a body than the prescribed way, I believe it is," the source said.
Thirty-four-year-old welder, Ramkarran of Number 72 Village, Berbice, was discovered dead by his colleagues about 100 feet from the camp he was employed at in Berbice on July 4, 2019, but it is unclear as to what led to his demise.
According to another senior police source close to the investigation, Ramkarran was allegedly consuming alcohol at a shop a short distance away from the camp on July 3 and after the business closed, he left to return to the camp.
However, he was not seen again until his co-workers found his body the following morning.
Meanwhile, the now dead man's sister, Somwattie, told Guyana Times earlier this month that at that time of her brother's death, her other siblings were clueless about the entire situation.
"My husband called the sawmill where Steve was employed at and the owner told him that Steve died and that they are making preparation to bring his body out from river."
However, the distraught woman had stated that three individuals, who worked at the sawmill, arrived at her residence a few days later and related to her family that her brother's body was decomposed and could not be removed from the location where it had been found and as such, it was cremated.
Police are continuing their investigation.