Scotia Bank Guyana, the corporation that has been a longtime supporter of youth rugby development in Guyana, on Friday demonstrated continued support for this endeavour with the donation of a cheque to Guyana Rugby Football Union (GRFU)? to run the youth programme ?for another year.
The funds will go toward the local rugby governing body's weekend youth programme as the GRFU continues their drive to build their nursery for the sustained success of the national ruggers.
Brian Hackett, Scotia's Robb Street branch manager, has said that the bank recognises that rugby is not heavily funded, hence they saw the need to help maintain the country's success in the sport by "empowering the players of tomorrow".
"This is our third presentation to the Guyana Rugby Union (GRFU), in preparation of the youth for development of rugby in general. We support them in their community programmes in which about thirty or more children participate in every weekend, learning the sport and having an opportunity to have something different," Hackett maintained.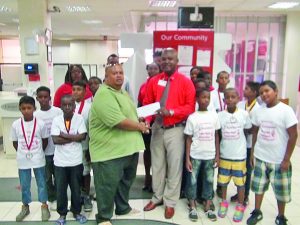 He continued, "We trust that we will continue to support them. We love the idea of working with the kids and ensuring they have the ability to develop themselves and this sport in general, as this sport has seen very little support generally; and we thought it would be a good opportunity to invest our time and money in developing these kids."
GRFU Representative and Development Officer Troy Yhip acknowledged that Scotia Bank's support has made a tremendous difference in the GRFU's weekend and schools rugby programme.
"I would like to thank Mr Hackett and his Scotiabank team for being on board with us with such a big offer for the last three years. But basically, they have been on board for the last 7 years," Yhup noted.
He revealed, "With their generosity the programme has grown, the summer camp has grown from 50 to 120 children this year because of Scotia Bank, and we plan to use the money to host a school tournament."
The GRFU recently concluded their 7th annual rugby camp, designed to teach and further enhance the country's rugby programme. The camp saw more than one hundred young people between the ages of 7 and 11 participating in the Scotiabank-sponsored event.