– body dumped in Roxanne Burnham Gardens
A father of two was on Wednesday morning found with a single gunshot wound to his head in a clump of bushes at Marigold Street, Roxanne Burnham Gardens, South Ruimveldt, Georgetown.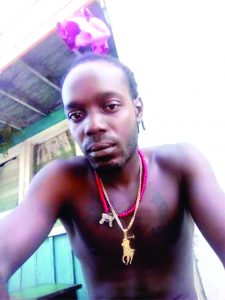 Dead is 27-year-old Roy Rowland, a seaman of Lot 25 Castello Housing Scheme, Georgetown. Based on reports received, the man's body was discovered about 06:30h by a resident who went to take out his cattle. He immediately raised an alarm and the Police were summoned.
During investigations, a 9mm spent shell was found at the scene. The Police are working on the theory that the man might have been killed somewhere else and his body dumped in the area, since residents did not hear the sound of a firearm being discharged.
At the home of the dead man, his cousin, Yolanda Mars told Guyana Times that her now dead cousin left home on Tuesday evening with his friends and never returned home and several attempts to contact his mobile phone proved futile.
However, she noted that on Wednesday morning, a young man turned up at their home and informed them that Rowland's body was found in South Ruimveldt and instructed them to walk with a recent photo of him.
Without hesitation, the family members rushed to the scene and saw Rowland's body lying in a clump of bushes with a single gunshot injury to the back of his head. While the family members say they are clueless as to what might have led to the demise of the young man, Mars noted that he was not a troublemaker and only returned from sea about a month ago.
She last saw him alive on Tuesday about 20:45h. "He come in and he ask we how he looking and so, and left…He normally get a driver who does come and pick he up…he pick he up and drop he off somewhere else and then the driver went and carry home he child mother. The driver claiming when he ready to come back, they tried calling him and there was no answer," the dead man's cousin related.
She, however, stated that the family believed that the young father was shot from behind, claiming that he never travelled in the back passenger's seat of a car. "We thinking that they might have shot him and then drive to Rasville and dump he body…At the scene, there was no blood which suggest he was shot there," she explained.
Mars further explained that her mother and other relatives visited the police station. Up to late Wednesday afternoon, no one was arrested for the murder, but several of his family members and friends were questioned.
A post-mortem examination is expected to be performed on Friday.