…Guyana finished with 24 medals
Rising talents in the pool, Aleka Persaud and Leon Seaton Jr continue to carry the Golden Arrow Head high when they combined to tally eight gold medals at the VOS end of the year swim meet in Suriname last week.
Persaud's splendid performances saw her shattering two records. Competing in the age 9-10-year-old category, she erased the 50m freestyle record of 30.03s to set 29.98s and the same distance in the butterfly she lowered 32.68s to 32.50s.
She also won the 100m individual medley in a time 1:17.98s ahead of Kaelyn Djoparto (1:19.95s) and Amzya Macrooy (1:21.13s). Adding the icing on the cake was her victory in the 50m backstroke in a time of 36.43s, edging out Djoparto (36.49s) once again while fellow Guyanese Patrice Mahaica stopped the clock at 37.24s.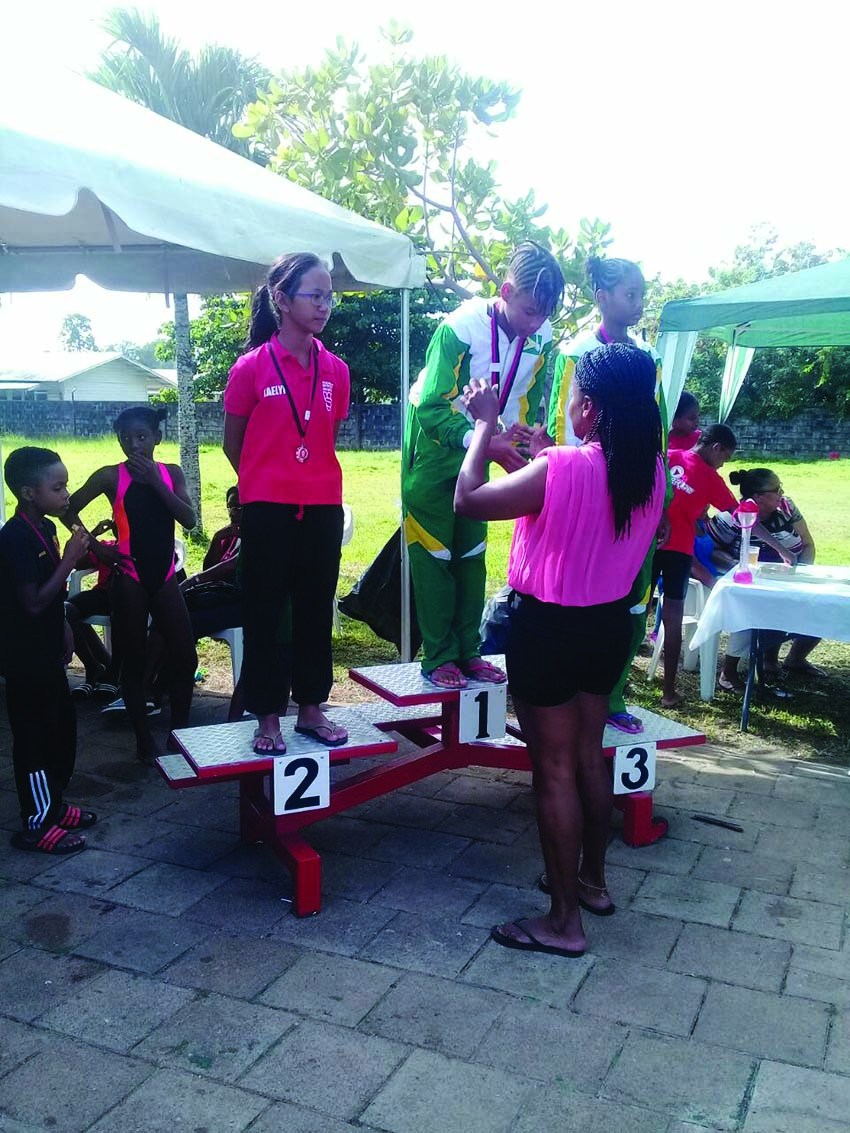 Seaton made the 11-12-year-old category his own, winning the 100m butterfly in 1:04.36s, 100m freestyle (57.23s), 100m backstroke (1:09.88s) and 50m freestyle (25.40s). It was not all gold rush for Seaton as he had to settle for bronze in the 100m breast stroke, clocking a distant 1:23.65s behind Shafiq Tangali 1:22.63s and Feranto Stuger (1:16.29s).
In the open category, Andrew Fowler won three individual gold medals and one relay bronze while Trumanine Cole who competed in the same category won two individual bronze and one individual silver medal.
Guyana also captured medals from Shareefa Lewis in the girls' 7-8-year-old category where she won three individual silver medals. Patrice Mahaica also chipped in with two individual bronze medals and one relay gold medal in the girls 9-10 category.
Nikta Fiedtkou swam in the girls 15-17 and won three individual bronze and 1 relay bronze medal. In the boys 9-10 category Jaleel Anderson won one individual bronze and one relay gold. Paul Mahaica won one relay gold while Amber DeGoeas won one relay bronze medal.
A contingent of 119 persons including swimmers, coaches, parents and well-wishers representing various clubs of the Guyana Amateur Swimming Association (GASA) travelled to Suriname where the visitors won 24 medals in total.