Region 6 flooding
By Andrew Carmichael
Several residents were forced to evacuate their homes on Sunday as a result of extensive flooding to sections of Port Mourant, Region Six (East Berbice-Corentyne).
The flooding was reportedly caused by overtopping of a canal which sent as much as two feet of water in some sections of Ankerville, Port Mourant, Corentyne.
Those residents had already experienced three floods but Sunday's has been considered the worst.
Following extensive flooding to several sections of Region Six from heavy and continuous rainfall, there was sunshine over the weekend but it was amid the sunshine on Sunday that water started to pour into some yards.
The water which was coming from a canal went into the cultivation area and stretched several miles, carrying a very strong foul stench.
Ramsammy Drugen was seen with two bags and a bucket leaving the community. He told this publication that he was on his way to Lancaster, which is a few villages away.
"Because of the flood, I can't stay in the place; I have to go to higher ground. That is the most I can do."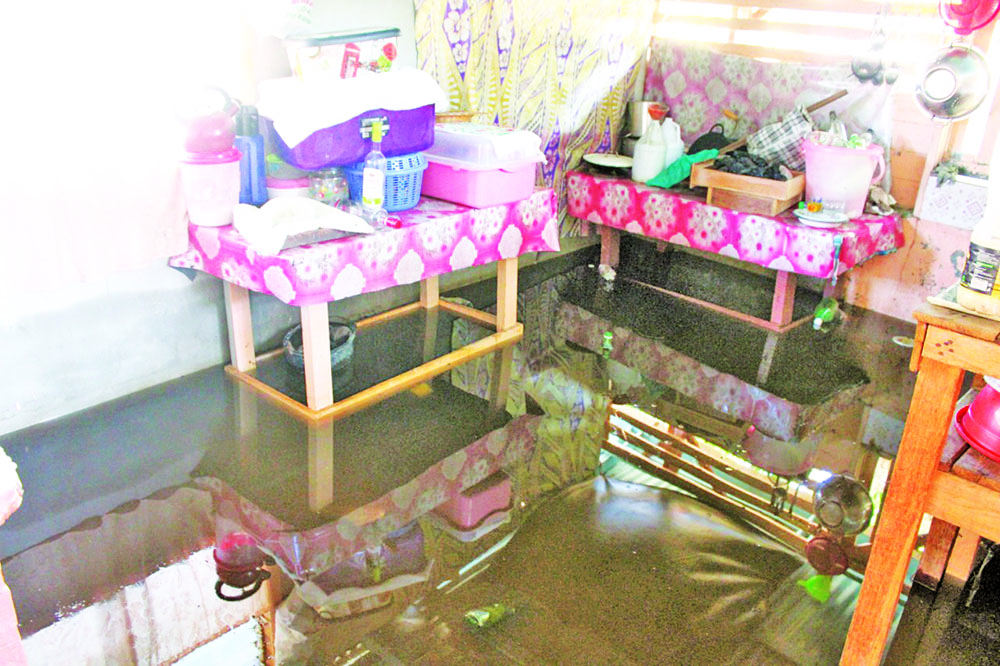 The 56-year-old man lives in a flat house at Ankerville New Scheme. He said the water had reached a little below his knees and he was trying to protect himself from diseases.
He also noted that there are all kinds of reptiles taking over his house.
In addition, Marilyn Mohamed, who has been living at her Lot 215 Ankerville home for the past 26 years, had to move a few houses down the street as several inches of water settled in her home.
The bedrooms, the kitchen and other parts of the house were covered with the "smelly" water.
"I have been flooded for the past two weeks… my house has been under water and for the past four days the water came into my house and it flood us from front to back – inside out. We had to leave because we cannot stay in this situation."
An excavator along with three tractor pumps were in the community on Sunday, she noted while calling on the relevant authorities to intervene.
"Every day we are talking and asking them what will happen, everybody putting us off and tell us to call the other person and the other person and nobody is doing anything. Today (Sunday) we see that they are here and they start to do some work. So, we are hoping that the water will recede soon because the water is smelly and it is not healthy," Mohamed said.
Meanwhile, Dhanwattie Dhanraj, also of the same village, related that she has been under water for the past two weeks. However, water levels rose over the past four days, causing her not to be able to use her kitchen.
When this publication visited, there was water which was about two inches high at her bed foot and about three inches of water was in her kitchen.
Another resident, Brian Sahadeo, who makes a living from farming, pointed out that the recent floods have completely destroyed his farm.
"All my crop duck out there. I had calaloo over there and inside I had all kinds of seasoning; fine-leaf thyme…"
Region Six has been under water for the past two weeks due to heavy rainfalls.