Complaints by employees of the Kalibur Security Services in Linden, Region 10 (Upper Demerara-Berbice), have led to Labour officials being called in to address and investigate the Service's divisional management.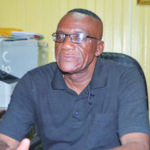 Employees contracted through the office of the Regional Democratic Council (RDC) have aired numerous concerns over alleged on-the-job ill-treatment by the management of the security service including the indiscriminate firing of employees.
The issues received more attention when an employee was allegedly fired for "being pregnant".
The aggrieved woman told Guyana Times that she was fired from the job after she confirmed her pregnancy. The 20-year-old mother of one has since been reinstated following the meeting with Labour officials at the RDC in Linden.
Regional Chairman Renis Morian explained at a meeting of the Council that he summoned the Labour officials after receiving several complaints about the style of management of the security firm.
Additionally, this publication spoke to several employees who voiced their concerns. One of those employees alleged that the Linden management does not grant employees sick leave, and they are not even allowed to call in sick.
There are also allegations that the management is not making payments to the National Insurance Scheme (NIS) on behalf of employees. Additionally, employees are asked to undergo drill training without pay.
The employees said they have reported the issues to the local labour officer in Linden and the office of the RDC.
Meanwhile, Municipal Councillor Lennox Gasper has called for the employees to be treated fairly, as he noted that he has also received numerous complaints.
The Councillor, the constituency representative of the area where the female security guard was raped, said the alleged treatment of workers is "unacceptable", and called for massive intervention.
"Several reports would have reached me with regards to the indiscriminate firing of persons for frivolous things…ever since the issue of the rape, everyone has to wear pants, regardless of religious standings, and failure to do so, they're fired. It's as if they're using this whole firing thing as a yardstick to whip the people…I think it's very unfair", the Councillor said.
He added that such treatment of employees will not be tolerated by the local administration, and called on the security service to provide radio sets to employees and to look after their interests, including the right to be part of a workers union. "It's disrespectful! It's inhuman! And this practice must stop," the Councillor iterated.