– in front of workplace
A 55-year-old security guard was discovered early Thursday morning lying in a pool of blood outside of his Robb Street, Georgetown, place of employment.
The dead man has been identified as Sammy Prowell of Lot 21 Pepper Hill Mocha Arcadia, East Bank Demerara. The discovery was made sometime around 05:45h on Thursday in front of a property he was guarding.
According to reports, the man's lifeless body was found in a pool of blood outside the downtown Robb Street business, Hai Matadi Ishant Variety Store, with lacerated wounds to the neck.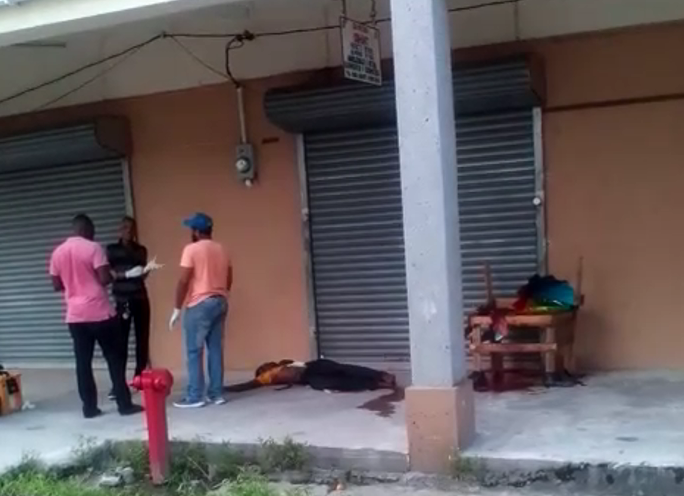 Guyana Times understands that the man's throat was slashed from the left side to the front and then stabbed on the right side. The slash reportedly had an eight inch incision, this newspaper was told.
Speaking with reporters, Prowell's brother, Farley Scipio, related that he was at home when he received a telephone call from one of his sisters, who informed him about the man's death.
"So what I did, I come down to town to try and get things in order. I end up at the hospital now and I identify him," the brother said.
Scipio said they were not sure what transpired that resulted in his brother losing his life in such a manner.
"I ain't know what really transpired, how he get murder and if he and anybody get any problem or whatever the case is," the man stated.
Prowell was attached to the Transportation and Protection Agency and works the 21:00h to 05:00h shift in the night. Only three months ago, he had joined the company.
At the scene, the company's Operations Manager, Mark Samuels, told reporters that after being informed about the incident, he went to the scene and saw Prowell's lifeless body crunched over a table.
"When I came here, I saw a crowd and the guy was lying on the desk. But I didn't do anything else, I just go down to the Police station and they did the necessary," he related.
According to the security firm official, it appears that the act, which he described as gruesome, was a deliberate one since there were no signs of a struggle or any attempted breakage on the premises.
"The location was secured but what happens sometimes when I come visit here, you find a lot of junkies in the area and he would be kind of aggressive to them. I spoke to him several times and I told him, when you working out here you got to be friendly because the area out here is lonesome. I said instead of creating enemies, you try to create friendships but he had this kind of attitude so I don't know what brought (his murder) because if you check around there was no attempted breakage or anything of the sort," the Manager told reporters.
While the security firm will be conducting its own investigation into the murder of its employee, Samuels is calling on the Police to thoroughly investigate the matter as he stressed on the risks security guards face while on duty.
Meanwhile, A Division (Georgetown-East Bank Demerara) Commander, Marlon Chapman, told this publication on Thursday evening that they were yet to ascertain what exactly transpired. Nevertheless, he assured that investigations are ongoing. No arrests have been made.
The now dead father of three lived alone in a small shack. His neighbours described him as friendly. Prowell's body is presently at the Lyken Funeral Home awaiting a post-mortem examination.