The Wismar Post Office which was partially gutted by fire following a foiled robbery last year reopened its doors to the public on Monday with emphasis placed on boosting security at the entity.
The Post Office which utilises the lower flat of a two-storey building has been completely rehabilitated with a new perimeter fence.
Last month, four months after the entity was torched, rehabilitation works began after the inking of a contract funded by Government and facilitated by the Regional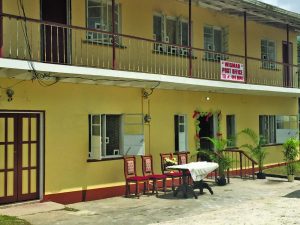 Democratic Council (RDC).
Regional Chairman Renis Morian had stated that he was not pleased with the inconvenience and discomfort experienced by the community's senior citizens who depend on the services offered at the location.
Pensioners were forced to utilise services at the Mackenzie Post Office following the incident, which was reportedly plagued by overcrowding and other issues.
Following the fire, the RDC had lobbied for the swift repair of the Wismar Post Office and has since made calls for it to become an agency to be budgeted for, in light of difficulties in securing funding to conduct the repairs.
The interior of the building was reportedly set alight in the wee hours of August 2, 2018, after bandits forced their way into the building. They reportedly encountered difficulties in accessing monies from a safe which was believed to contain old-age pension payments.
The safe, however, withstood the attempts and it is believed that the bandits then set the building alight. Pensioners who turned up to receive their old-age pension were unable to access payments due to the closure.
The incident has led to calls by residents and officials for more security since the entity has been hit by numerous robberies in the past. No arrests were made in relation to the 2018 fire and attempted robbery.
Meanwhile, the simple re-commissioning ceremony was attended by Postmaster General Karen Brown, Chairman of the Guyana Post Office Corporation (GPOC) Raphael Massiah and Director Martin Gaul.
In addition, Regional officials including Chairman Renis Morian, Vice Chairman Elroy Adolph, pensioners and members of the GPOC were also present.