One day after two people lost their lives in a tragic minibus accident on the East Coast of Demerara, several others, including a pregnant woman, have been injured in a similar accident – this time in Georgetown, after a minibus that was reportedly speeding veered out of control and ended up in a trench.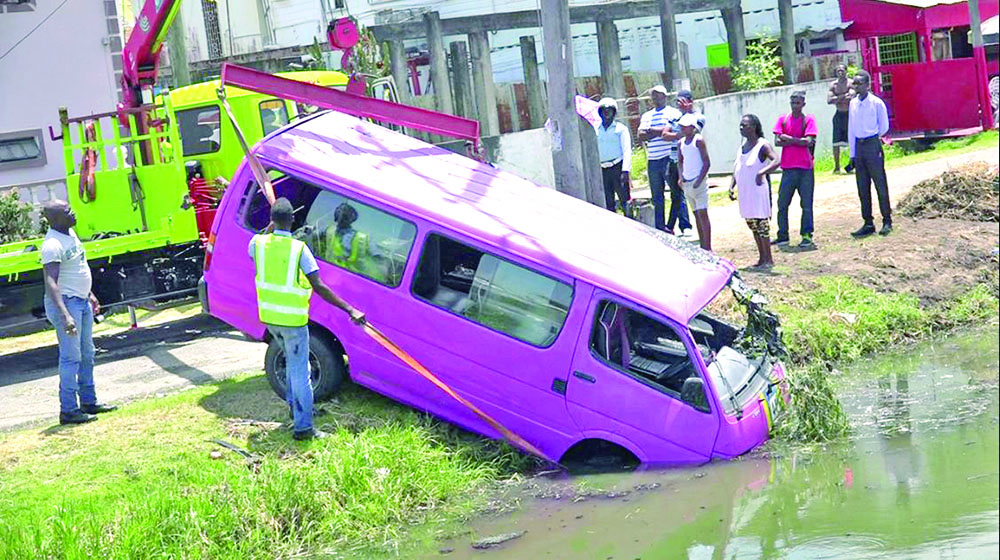 Guyana Times understands that the driver of the Route 44 minibus, which bears registration number BLL 1949, was heading to the Georgetown minibus park about 11:00h but while in the vicinity of Vlissengen and Shell Roads, the driver lost control.
This publication was told that the minibus driver, Ashton Faithful, 33, of Ogle, East Coast Demerara ECD, attempted to overtake a car, but ended up hitting the car on its right side and spun out control, landing in the trench.
Four passengers, including a pregnant woman, were injured in the process and were taken to private medical institutions, while Faithful was taken to the Georgetown Public Hospital, where he is nursing injuries to his neck.
Police have since launched an investigation.
On Sunday, two vendors died tragically after the bus in which they were travelling crashed and toppled several times before coming to a halt at the Success Public Road, ECD.
Fifty-eight-year-old Denise Cully, of Lot 89 Vigilance, ECD, died on the spot while Patricia Ellis, 59, of Lot 30 Haslington, ECD, died while receiving medical treatment.
Based on information received, the accident occurred about 07:30h and involved a minibus bearing registration number BTT 4910, driven by a 47-year-old resident of Golden Grove, ECD.
A Police report disclosed that the minibus was proceeding west along the southern drive lane of the southern carriageway of the said road, reportedly at a fast rate of speed.
It is alleged by the driver that a blue motor car overtook him from the left side and hit his left rear wheel causing him to lose control and hit the median.
This resulted in Cully being tossed out of the bus and ending up on the northern carriageway.
The minibus then turned onto its left side, crushing the now dead woman. It then skidded some distance before coming to a halt.
The vehicle was eventually turned back onto its wheels and the decapitated body of Cully was removed.