Several persons have been injured following a four-vehicle collision at Albert and Croal Streets in Georgetown on Monday.
Those injured are Victor Logan, 32, of Semple Street Hopetown, West Coast Berbice (WCB); Stephanie Daniels, 20, of Public Road Ruimzeight, West Coast Demerara (WCD); and Emanuel Daniels, 17, and Christine Daniels, 22, of Goed Intent, West Bank Demerara (WBD).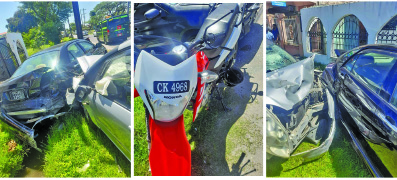 The accident reportedly took place at about 13:00h, and involved hire car HC 7448 driven by Dawane Sobers; motorcycle CK 4968 driven by Victor Logan; and motorcars PLL 8208 and PRR 1355.
The Police have said that hire car HC 7448 was proceeding along Croal Street while the motorcycle was proceeding south on Albert Street, and as both vehicles approached the intersection at Croal and Albert Streets, the motorcyclist reportedly failed to stop, and drove into the path of the hire car, thus colliding with the front portion of that vehicle.
As a result, the motorcyclist Logan fell onto the road surface and received injuries about his body. The hire car driver then lost control of his vehicle, and it collided with motorcar PLL 8208, which was parked at the time, and then slammed into motorcar PRR 1355, which was also stationary.
The three passengers of the hire car and the motorcyclist were picked by an ambulance attached to the Georgetown Public Hospital, but the passengers left the hospital without being examined.
The driver of the motorcycle was, however, admitted with a fractured left hip and abrasions about his body.
A breathalyzer test was conducted on the hire car driver, but no trace of alcohol was detected in his system.