New York Cricket League…
Zeeburg Cricket Club's Yutesh Avi Dhanpaul and Balbinder Shivpersaud, currently engaged abroad in the Commonwealth League (CL) and the New York Cricket League (NYCL), led team Bachan to victory over the weekend with contributions of 2-36 and 78 runs respectively.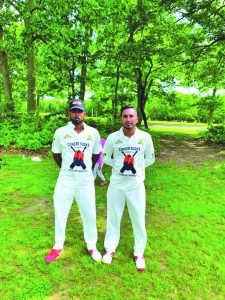 This was in a 25-over matchup against the dangerous Phantom Stallions Cricket Club at the Cunningham Park on 73rd Avenue.
Having won the toss, Phantom Stallions elected to bat first, reasoning that the Bachan side have dominated most of the tournaments by batting first.
With Muddassar Madi Wariach being the aggressor while his opening partner Imran Baig provided stability, Wariach launched into the Bachan bowling, only to shortly find himself back in the pavilion, having been dismissed for 24 with the score at 28-1.
Baig followed shortly for 13, but Jaspinder Jesse Singh dug deep into his recesses and pulled out a superb knock of 63 off 44 balls, inclusive of five boundaries and two maximums.
Despite Singh's efforts, no other batsman could hold his own, and the innings crumbled off the excellent bowling of Bachan to end on 174-8.
Bachan's incisive bowlers were Javed Karim, with 2-26; Yutesh Dhanpaul, with 2-36; and Steven Ramoutar, Derrick Ramkelawan, Beejai Somai and Magesh Erundhambattu, who each bagged a wicket.
Needing a simple target of 175 for victory off 25 overs at a net run rate of 7 runs per over, the Bachan opening batsmen Javed Karim and Balbinder Shivpersaud produced a solid partnership of 165 to single-handedly carry their team over the line. They ended with scores of 80 and 78 respectively as
Bachan achieved their target in 21.4 overs to finish on 178-2.
The only Phantom bowler to bag any wicket was Wahab Pervaiz, with 2-19.