Commonwealth Cricket League…
Shivpersaud hands Warriors win over Madras Cricket Club
– rain 'decides' encounter
Balbiner Shivpersaud, Zeeburg Cricket Club's (ZCC's) senior player who has been drafted into the Commonwealth Cricket League currently being played in New York, now represents the West Coast Warriors Cricket Club (WCWCC) in the New York League.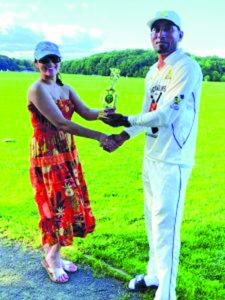 In a Warriors' 30-over match against the in-form Madras Cricket Club, played at the Flushing Park in New York, the ever-reliable Shivpersaud was able to take his team over the proverbial line with a well composed 94.
Winning the toss, the Warriors decided to bat, thinking to capitalise on the condition of the pitch before further degradation should occur through the vagaries of the weather. They never got things going, and lost wickets at regular intervals, which pegged them back and forced them to go on the defensive.
Then came Balbiner Shivpersaud to the Warriors' rescue, bringing deliverance as he forged a vital partnership with Rajin Rahaman, who was eventually bowled for 40.
Playing his shots even as wickets fell around him, Shivpersaud almost single-handedly dug the Warriors out of their proverbial grave, so that when his wicket eventually fell for 94, resurrection had already been completed, with the Warriors having amassed a total of 207 off their allotted 30 overs.
Bowling for the Madras club, Avinash Lalbeharry took one wicket, while Airshad James, Garda Khan and Ryan (only name given) each bagged three wickets.
Needing to score 208 for victory, Madras found themselves confronting a task too steep to complete, and soon lost the wickets of Garda Khan and Denish Mangroo for scores of 6 and a duck respectively.
With the pressure mounting, Ryan and Rafman Khan began to open up, and looked comfortable in so doing. But the rains came and left both batsmen stranded on 44 and 12 runs respectively.
Thus the Warriors won the game via a higher net run rate.