…signed statutory form while still dual citizens
…Police contacted
The Guyana Elections Commission (GECOM) has rejected the presidential candidates of the Liberty and Justice Party (LJP), Lenox Shuman, and United Republic Party (URP), Dr Vishnu Bandhu, from the candidate list after they signed statutory declaration forms while still dual citizens.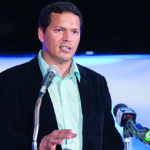 This was revealed at the conclusion of GECOM's statutory meeting on Tuesday, where GECOM Commissioner Bibi Shadick revealed that since they signed the statutory declaration forms on Nomination Day, they will be removed from the list. Also evicted from the candidate list for being a dual citizen was Dr Valerie Leung of the People's Republican Party (PRP).
"The Commission's decision was that Mr Bandhu, Mr Shuman and Ms De Jonge, their names have to be taken off those lists. Because when they put their names there they were all dual citizens. Whatever happens after…some correction will be made to that," Shadick explained.
Bandhu had claimed that his relinquishment was processed and granted and had even provided a document titled 'Certificate of loss of nationality of the United States' from the US consulate dated January 16. Nomination Day was January 10. Shadick questioned the alacrity with which Bandhu was able to process his documents.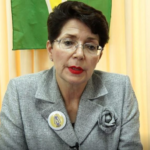 "So he says, but I don't understand who applies and gets relinquishment (so soon). He took the oath and he gave us a paper which says it was approved on (January) 16," she said, adding that while the lists were approved and gazetted with the names of the dual citizens, this will have to be corrected.
Meanwhile, Government-nominated Commissioner Vincent Alexander noted that notwithstanding Bandhu's claims that he has since relinquished his citizenship, he was in breach of the requirements when he signed the statutory declaration form.
"The situation is that if someone did not make a proper, correct and authentic declaration and at the time of the declaration was in default, then the person is not eligible to be on the list. That's the principle."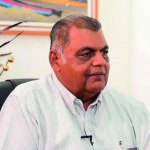 "If one is to apply to be on the candidate list and that application requires a declaration, I would assume that at the time of that declaration you have to be in compliance. And the fact of the matter is, from all evidence, at the time of the declaration Dr Bandhu was not in compliance."
Alexander said that despite the removal of these particular candidates from the list, the entire list has sufficient numbers to allow it to be used. A National Top Up list must have a minimum of 42 candidates eligible to sit in the National Assembly.
In an interview with this publication on Monday, Bandhu had claimed that he made GECOM fully aware that he was a dual citizen and, moreover, he received the approval of his candidate list from GECOM.
Article 155 (1) of the Constitution of Guyana states: "No person shall be qualified for election as a member of the National Assembly who (a) is, by virtue of his own act, under any acknowledgement of allegiance, obedience or adherence to a foreign power or state."
Section four of the Statutory Declaration Act, Chapter 5:09 states that "Everyone who makes a declaration according to this Act containing any statement false in fact, which he knows or believes to be false or does not believe to be true, shall be guilty of a misdemeanour and shall be liable to imprisonment for one year."
When contacted on Tuesday evening about these new developments, Bandhu claimed to be in the dark about the GECOM decision.
At a press conference on Saturday, Shuman had brushed off the fact that he signed the statutory form while still a Canadian citizen. According to him, he has already applied for relinquishment and is awaiting certain documents from the Canadian Government. Asked what would happen if LJP won a seat in Parliament before his documents arrive, Shuman had said that the party could go on without him.