By: Andrew Carmichael
A single mother of five is seeking help to ensure that her children receive proper education so that they can have a brighter future.
Thirty-nine-year-old Yonette Chesney of Savanah Park Squatting Area, Region Six (East Berbice-Corentyne), has undergone two surgeries since she was diagnosed with diabetes two years ago.
Prior to finding herself in this position, Chesney made a living as a domestic worker and by providing hair care services. Now, she is unemployed.
"I went in the hospital for about three weeks until this finger heal up and then my back, I do surgery two times for abscess. I still going to the hospital every day from Monday to Sunday. Some days, I does walk if I ain't get money; some days I does catch car. Walk and go and walk and come back. I would go by my mother and she would give me food and I would stay there til afternoon then I would come home back."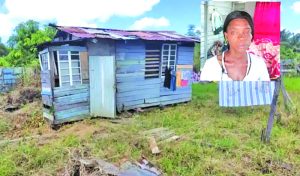 The woman said she struggles to send her children to school. She gets some assistance from her mother and sister, even though her mother has now retired.
One of her three children that attend school lives with a speech impediment and attends the Special Needs School.
The children are aged 19, 18, 17, 15, 8.
The 18-year-old lad attends the New Amsterdam Technical Institute while the 19-year-old female is pregnant. None of them work. Chesney said her only source of income is the Public Assistance she receives of $14,000 monthly.
Unable to work, Chesney said she still has to provide for her children, including ensuring that they are capable of completing school assignments.
"My lil daughter, when she get assignments, does got to go to the internet (café) and print it out, but that and all hard because some days I don't get money fo she go and do it.
"She had assignment last week and I had no money, so she didn't get to do the assignment…"
"It is hard on me as a single parent; her father don't help me with anything…"
The woman is hopeful that help will come her way soon.
"I does say to God, you don't be one way all the time; one day I will rise and my children will rise and we will live happy." In fact, she is pleading with persons to help her family, particularly the children.
"I can't afford a battery lamp, so I does light candles in the night – it hard, real hard."
"Me and my five kids, we get one mattress; it is not all of that big so I does sleep in the chair because the mattress isn't all of that big to hold all six of us."
Anyone who wishes to assist the family is asked to contact Chesney on telephone numbers 689-6685; 6718962 or 6978670.